Robotics tournament held at Sequoia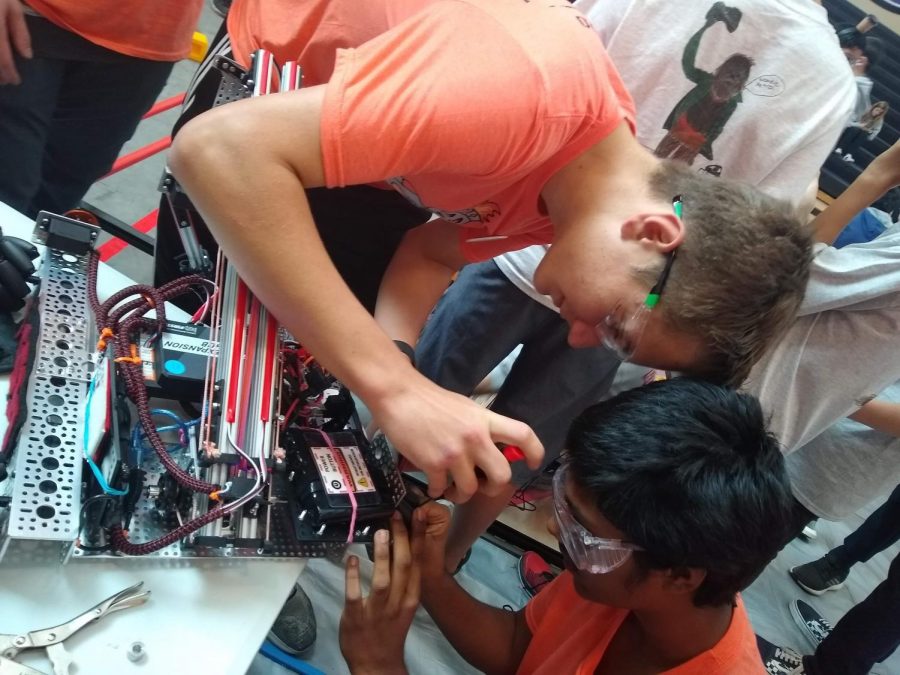 A Robotics tournament, hosted by the Sequoia robotics team, took place at Sequoia on Nov 17, drawing 17 teams from across the Bay Area.
First Tech Challenge (FTC) is a robotics league for 7th through 12th graders. In it, robots built by the teams compete to complete various tasks on a mat. There is a period where robots must operate independently, followed by a remote controlled period. The teams aren't competing alone though, they must cooperate with a randomly selected ally team. With time limited between ally selection and the match's start, and a million last minute adjustments to make, the practice mat is a hectic place; there are almost always multiple teams trying to test an adjustment or practice an action one last time.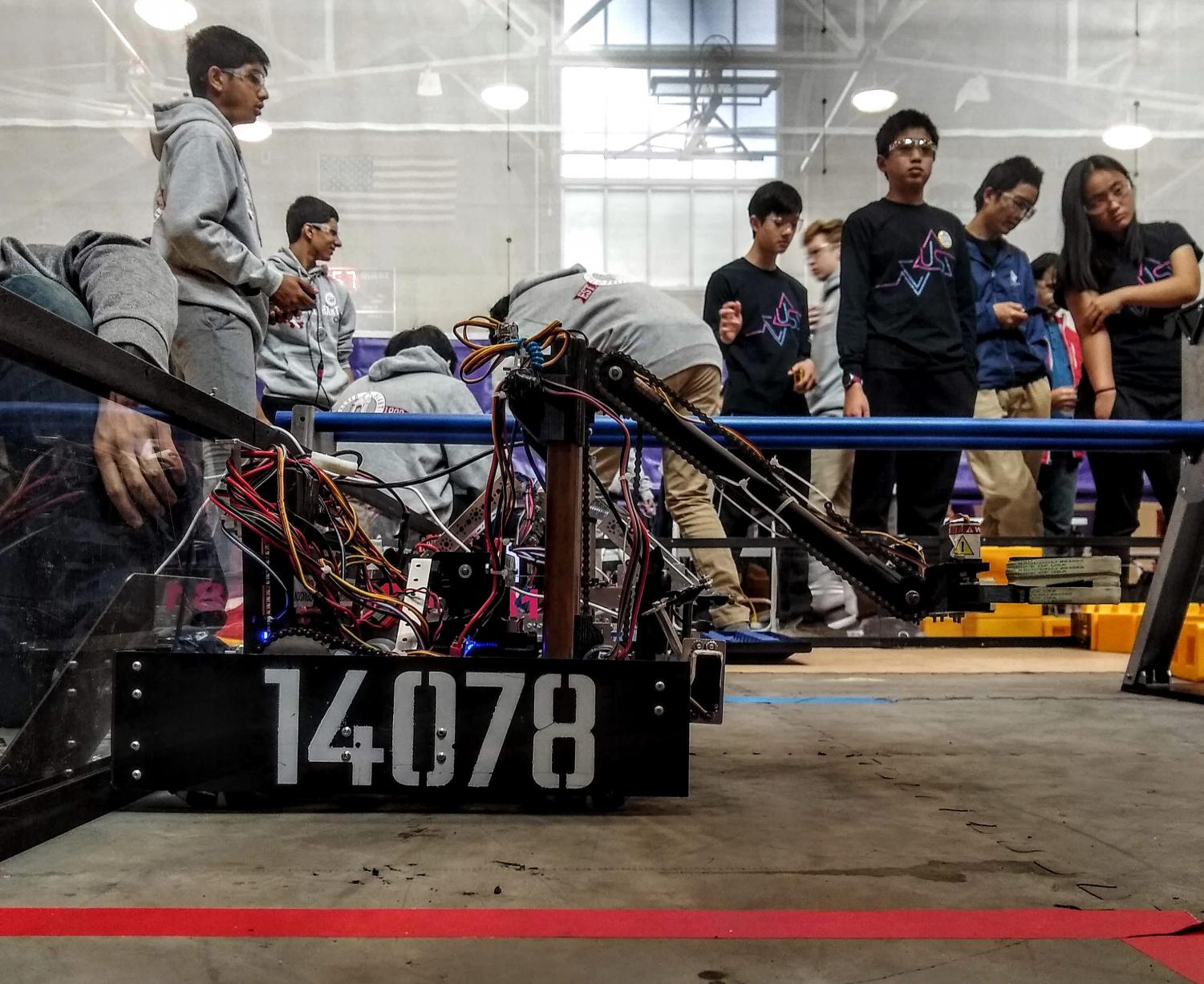 This year's challenge revolves around stacking plastic blocks to build a tower, which means teams must build mechanical arms capable of gripping, lifting and placing the blocks. Mechanisms for grasping varied, ranging from intake wheels to vertical claws to horizontal pincers. To lift, teams employed devices such as rotational arms, telescoping arms, scissor lifts, forklift style mechanisms and more. As diverse as their solutions were, most teams found this aspect of the build most challenging.
"Our arm is the life blood of our machine. If it doesn't work, nothing works." said Komal Keysara, a member of Roblivion from Wilcox High School.
The technical challenge of building and programming these machines is huge, which is a main draw to the program. In addition to completing their tasks, robots must also meet league design criteria.
"The most fun part [of FTC] is to build and innovate around the technical limitations."Said Simeon Lovric, a member of Wookie Patrol, a community based team in Piedmont.
But the competition is not just about the robots and the programs they run—far from it. The teams are also evaluated by a panel of 12 judges on their design process, team dynamics and community outreach efforts. These judges give various awards to teams for achievement in all these areas, but the most coveted award is the Inspire Award. This award is given for overall excellence in all judging categories. The Inspire Award or first place in the tournament on the mat will progress a team to the next round, so veteran teams take judging very seriously.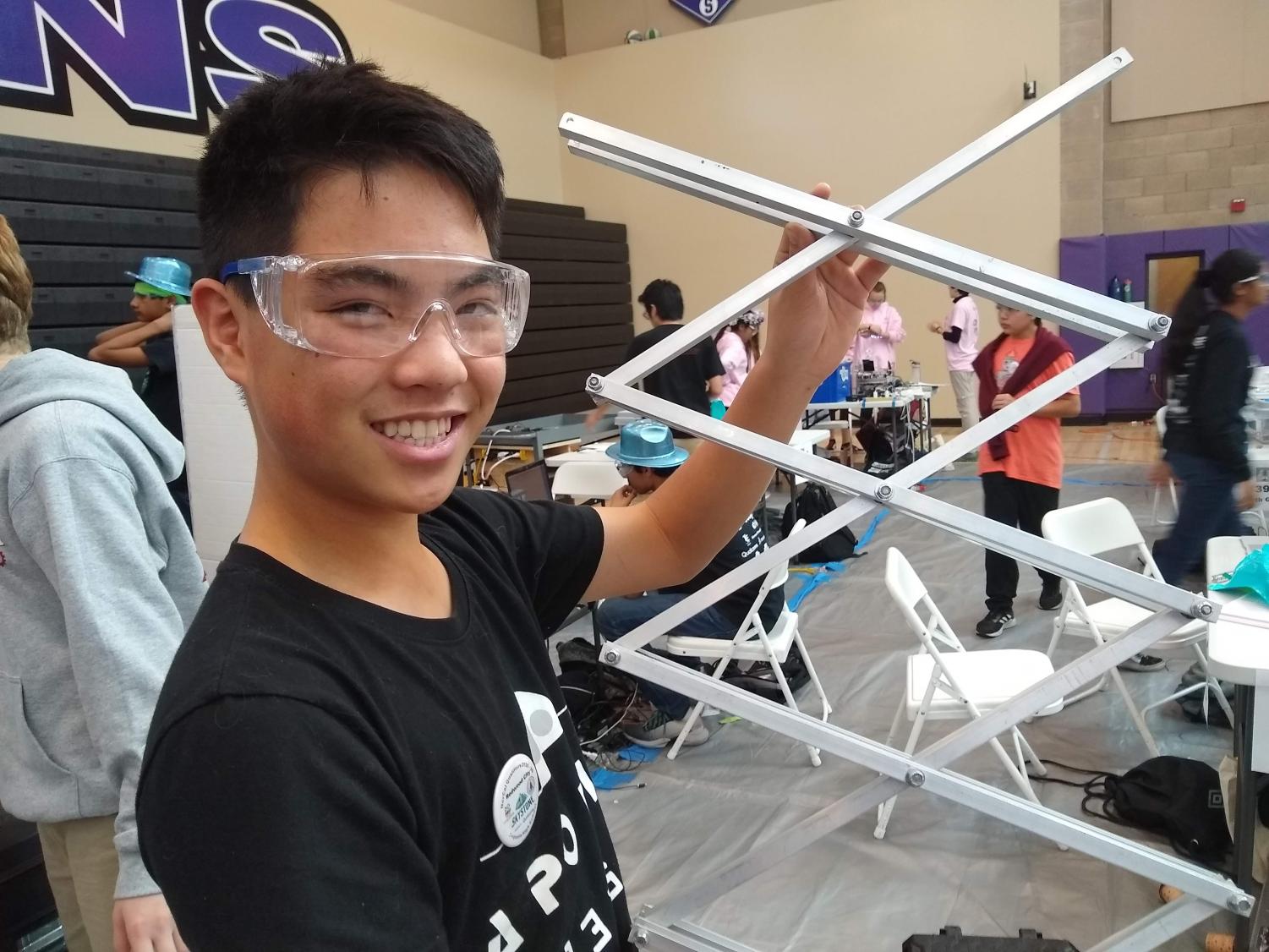 The Interns, of Quarry Lane Middle School, are an example of a team which prioritizes judging. Although one of the youngest teams in the competition, they focus on  outreach to younger scout troops and students who can join the team later on. Additionally, they have partnered with a variety of charitable organizations.
"Our team spends 50 percent of our time on outreach, and the other 50 percent on the robot,"Intern Ryan Bigee said. 
All teams outreach focuses on improving the world around them, and one team in particular is attempting to even the gender imbalances within the FTC. The Ladies of Engineering and Design (LED) runs out of a Menlo Park girl scout troop and was the only all girls team at the contest. No other team had a majority of girls at the contest. 
"We focus on outreach, and have partnered with younger troops," LED member Elizabeth Higgins said. "We help them get  coding and engineering badges." 
At the end of the day, the FTC tournament at Sequoia was a great challenge for all teams involved. It was a test of engineering and coding prowess, but also of cooperation, ingenuity, dedication, improvisation and character.