Energy and sports drinks have disputed benefits
Walking around campus, you might see athletes sipping Gatorade or gulping down protein shakes.
Sport drinks are hugely advertised and sold, but contain high levels of sugar. An eight-ounce Gatorade D has 26.8 grams of sugar.
Coaches often offer advice to athletes on what to consume.
"You [can] get away from [sport drinks because of] the heavy level of sugar. Then [there is the] electrolyte issue," PE teacher Rob Poulos said. "When you sweat you are also losing minerals, not just water."
Electrolytes affect the amount of water in your body, the pH level in your blood and muscle function, according to the United States National Library of Medicine.
But unless you're doing a high-intensity workout, avoid them. According to "The Daily Meal," added nutrients in sport drinks are not beneficial to the average person, and they can lead to weight gain over time.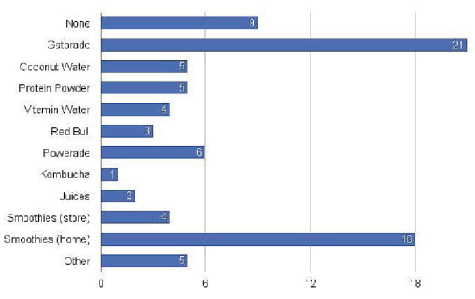 "Gatorade has positive effects while you're doing something, but I don't suggest drinking it regularly. It is just full of sugar and unhealthy if you're consuming it not for athletic purposes," junior wrestler and lacrosse player Hannah Dosen said.
"[Any]thing you consume diet-wise can also have an effect on your energy levels, not necessarily just energy supplements," Dosen said.
An alternative is protein supplements, especially in powder form, which are becoming more popular every day.
According to Euromonitor, the sales of protein supplements has risen by 40 percent since 2008 and is estimated to rise another 40 percent by 2018.
"Protein powder enhances my recovery [and] allows me to get the protein [my body] needs after my workout," senior weightlifter Wes Goldberg said. "In the first 15 minutes your body absorbs the most protein."
Whey-based protein powder can have many benefits, such as supplying the body with amino acids and preventing muscle breakdown. Also, it can ensure that cells have a steady supply of nutrients. However, since it is easy to consume, it is easy to go overboard, resulting in the protein being stored as fat.
"The energy drink issue mirrors the U.S. as a whole. Everything has sugar in it now," Poulos said. "People like sweet stuff, so they're providing it."