With all eyes fixed on the runway, a crowd of students from all grade levels circled the quad Tuesday at Sequoia's annual Halloween costume contest. Each participant walked down the makeshift path, all embodying their character as much as possible.
First, the teachers showed off their creativity. PE teacher Atiba Williams, dressed as the Black Panther, drew loud cheers from the audience, as did Spanish teacher Evelyn Nadeau, who stole the show as "Alice in Wonderland's" Queen of Hearts. 
Ethan Politzer and co-announcer with Claire Dulsky, announced Nadeau as the teacher with the best costume. Nadeau saluted the crowd with her heart wand and let the students take center stage. Politzer appreciates the natural student engagement at these types of events that occur separately from ASB promotions. "While these 'low-risk' events definitely aren't spontaneous, students often happen upon them and get to enjoy experiencing them independently of our hyper-promotion," Politzer, a junior who serves as ASB's Communications Director, said.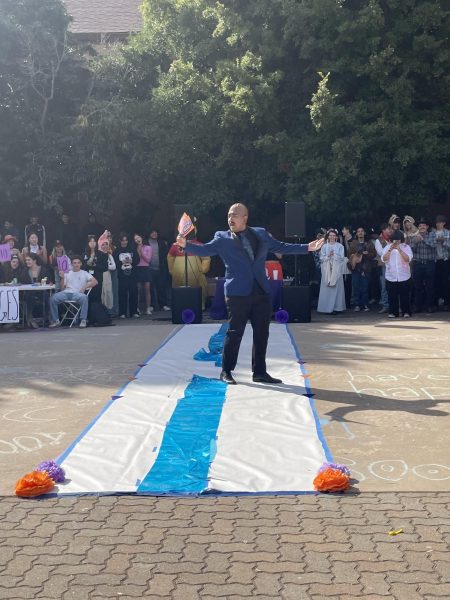 He also enjoys the inclusivity of such events, especially those that highlight otherwise neglected communities or previously had an air of exclusivity about them.
"We're able to include and spotlight Sequoia students and the diverse communities they're a part of. Historically, our events have sometimes felt exclusive, so I'm working with other ASB members to allow for a larger volume of events and more events that highlight specific communities," Politzer said.
As students made their way down the runway, they showed off their Halloween spirit to their peers. Senior Austin Tamm grabbed his air horn before he went down the runway, stopping at the end to dance to the crowd.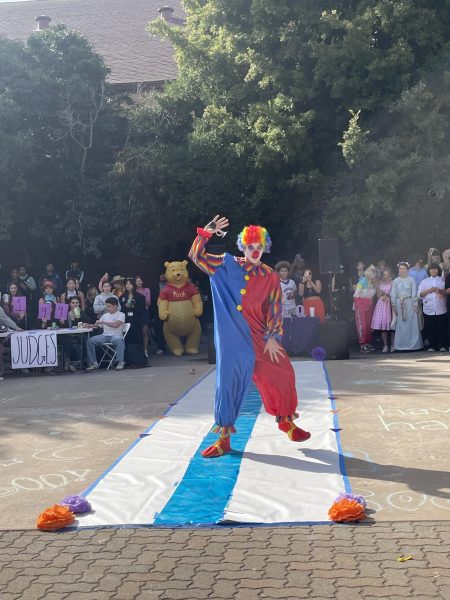 "I wanted people to go, 'Hey, that's cool, nice!' And so I went simple with a clown costume," Tamm said, citing past costume confusions as his reason for this year's simplicity. However, this didn't deter Tamm's creative side, as he thanks Sequoia's inclusive nature for inspiring him. 
"For the past few years, Sequoia has made it very clear to me that it's full of spirit and creativity when it comes to costumes, so this welcoming environment was a nice encouragement," Tamm said.