Well over 50 teachers from throughout the district demanded a pay raise at the district board meeting on Wednesday, Oct. 25, bearing posters and matching T-shirts. 
Teachers in the district feel underpaid and undervalued, as many qualify for low-income housing, monetary support from the government, or share living spaces with multiple roommates. 
"Invest in our students. Quality costs $," read one poster. The crowd spilled out the door and still more attended via Zoom. 20 staff members spoke, demanding "fair compensation".
"We need our salaries to reflect our value," Menlo-Atherton English Language Development (ELD) teacher James Nelson said.
Another teacher, Julie Marten, said she qualified as "low-income" through the U.S. Department of Housing and Urban Development. She is a 20-year veteran teacher with two kids and commutes an hour to work each day.
"I raised my kids in a small bedroom with someone renting the living room," Marten said.
Still more teachers struggle to keep up with the cost of living in such an expensive area and are considering moving to other districts, such as the Mountain View-Los Altos Union High School District.
"With 27 years of experience, if I moved to Mountain View [and had] only 12 years of experience, I could still make $40 thousand more," counselor Karina Escobar said in her public statement.
Replacing teachers requires training, time and money, and each time an experienced teacher leaves the district, it costs the school, the students and the community.
The Sequoia Union High School District (SUHSD) currently has $40 million in surplus unrestricted funds. The Sequoia District Teachers Association (SDTA) is asking for a 15% pay raise over two years versus the District's proposed 7.25% increase over the same time period. 
Sequoia Media Center Specialist Betsy Snow appeared visually emotional while making her statement. A longtime veteran of the district, Snow said many of her colleagues have left the area because they cannot afford to stay. 
"I want [new teachers] to feel supported […] especially as it gets harder and harder," Snow said, referencing the pandemic and her personal struggles. Snow feels lucky to serve this community, but she wants other teachers to share this opportunity. Living in an area with such a variety in income Snow feels both that she is "the help," being less wealthy than some, and also that she owes her time and energy to less advantaged students. "It's really exhausting," Snow said.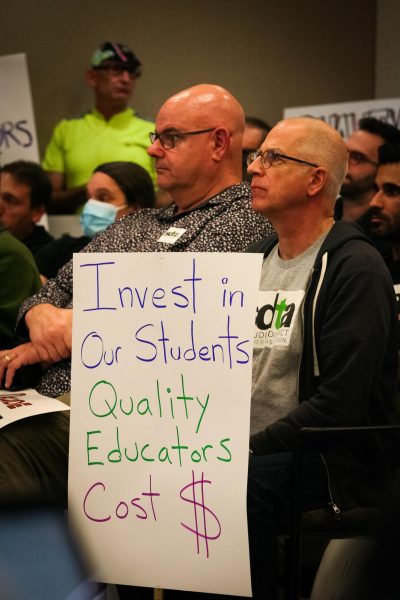 While most teachers don't feel completely ignored by the district, Escobar says that the district is not doing enough.
"This is not about appreciation […] Appreciation doesn't pay [for] my gas," Escobar said. 
Instead, the union is looking for fair, competitive compensation that can support the cost of living in the Bay Area. They don't feel as though that's what they are currently getting.
"I can feel myself being pushed out of the profession," Woodside High School teacher Darcy Book said. Book lives with two housemates. "We need to see substantial change in the salary schedule."
Many teachers coach school sports, supervise school dances, and spend time outside of class supporting students. Additionally, teachers generally do not get paid for the grading and other work they do outside of school hours.
To learn more, you can visit the district website to find out ways you can help shape the future of SUHSD. In the meantime, teachers struggle to juggle personal lives, work, and more for little pay. 
"This is a failure of government," former teacher Peter Caryotakis said.
Menlo-Atherton ELD teacher J.P. Nelson looks towards his own future, grappling with the fact that many teachers might need to retire later than they had hoped for due to their low salaries. "We're looking towards our future. Are you?"