Sequoia's music programs returned after summer break for their first performance of the 2023-2024 school year at  Back to School Night, showing their skills to parents and families of Sequoia students.
"Our preparation is mainly dusting off our pep band music. That's what we play at Back to School Night. It's super fun. It's tunes that everyone knows [and] people's parents know," senior and four-year band flutist Ella Satterwhite said.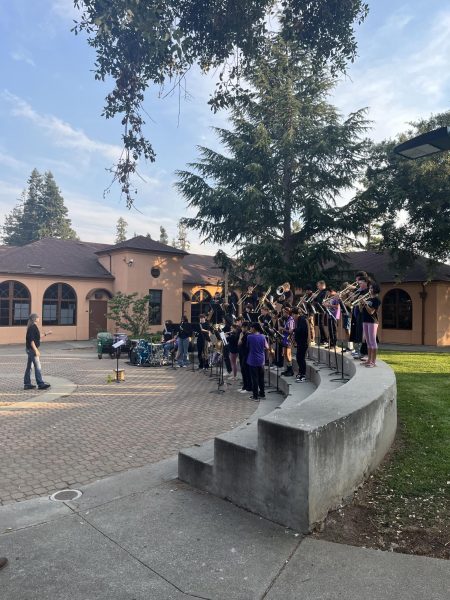 Despite performing with the band, some students have to practice independently outside of the class. eniors will commonly choose this path due to scheduling conflicts.
"I am an independent study senior which means I'm still involved in band. I do all the performances, like Back to School Night for example, but since I have too many conflicting classes and I take Theory of Knowledge, I do [band] on my own," Satterwhite said.  
Other students take a different route and can only practice their instrument at school. 
"I don't have an instrument at home. […] This is my second year in the high school orchestra, but it's my fourth year playing my instrument," sophomore and cello player Maya Martinez Perez said.
Regardless of how the students prepared, they were still able to put on an impressive performance. 
"I was very fortunate that this group was able to actually play that music rather successfully, and they're doing a heck of a job even after two weeks," orchestra director Othello Jefferson said.
With the year starting, there are high hopes for the rest of the school year. 
"This is just a snapshot of the beginning of our year. Wait until you hear us even later. As good as we may be, or whatever you hear now, it's only going to get better," Jefferson said.