Tatted teachers and students: combatting tattoo stigma with self-expression
Sequoia advocates for self-expression among students and staff. With very lenient dress codes, it's no surprise students and teachers can walk around campus sporting their cool tattoos.
For a long time, tattoos have been seen as a taboo topic, with many thinking that others shouldn't permanently alter their appearance, considering it unprofessional or weird and not embracing it as a form of self-expression.
In California, you have to wait until you're 18 to get tattoos, but senior Marcus Brewer has found a way to get around that.
"On my wrist [it says] faith, and then on my neck [is] a musical note," Brewer said. "I got the one on my wrist a couple months ago (at 18), and then I got the one on my neck two years ago, I got it in Hawaii. You need parental consent in Hawaii [if you're under 18]."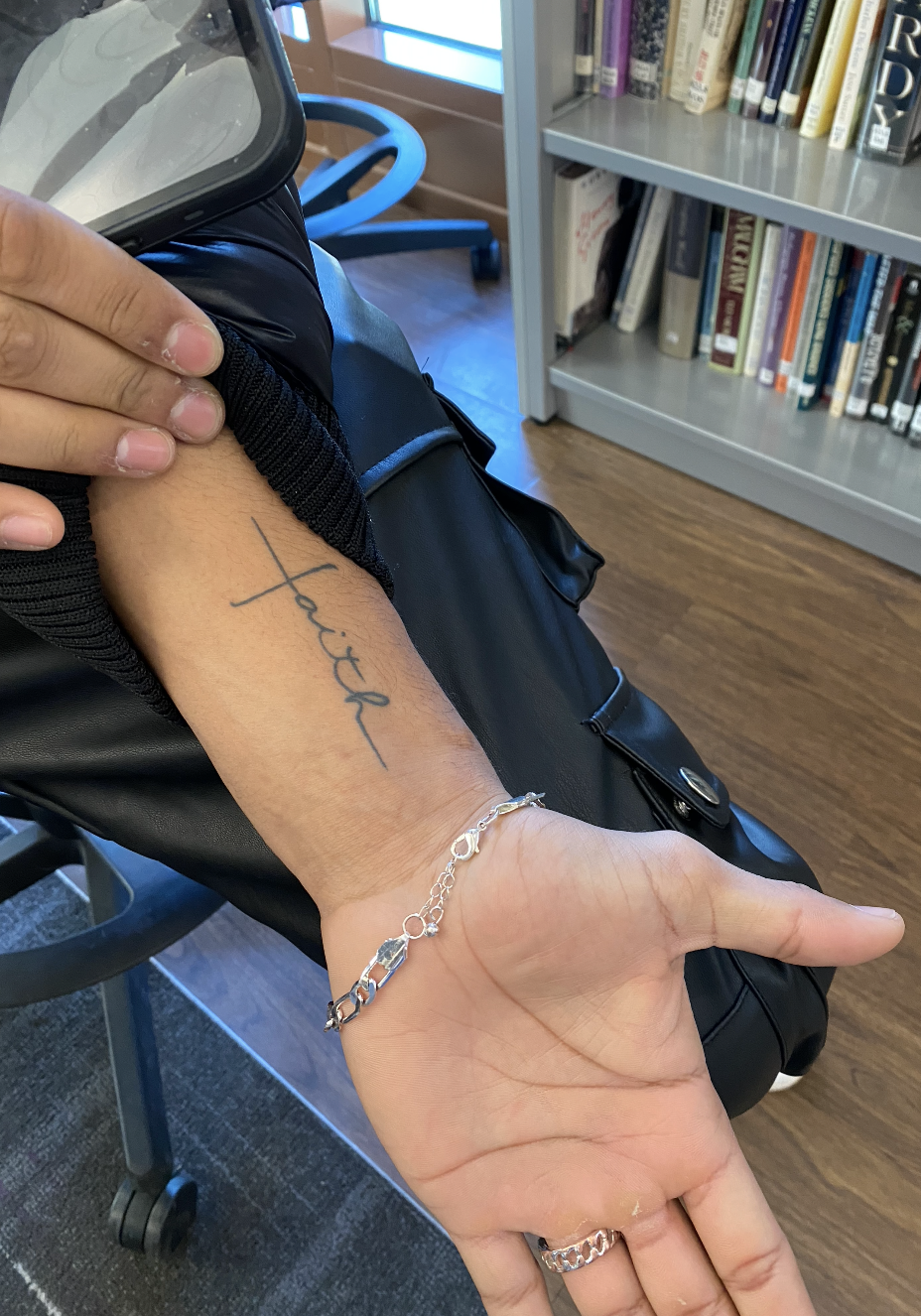 Brewer is concerned about the stigmatization of tattoos. 
"In the workplace, if you have too many tattoos, you can definitely get judged. But I feel like if they're small, it's just ways you can express yourself. I think that everyone should be able to get whatever tattoo they want," Brewer said. 
Ultimately he has no regrets about his tattoos.
"I don't regret it. Because at the end of the day, it's just me expressing myself," Brewer said.
Roberta Love, one of Sequoia's chemistry teachers, has a few tattoos herself. One on her hip, her shoulder and her ankle. Her tattoos represent both rebellious and more meaningful moments.
 "One is a plant, the other one is a gnome and the third one is half of a tattoo. My sister has the other half, and it represents us. The first two were mostly a rebellious act toward my parents. The last one represents the close connection that I have with my sister," Love said.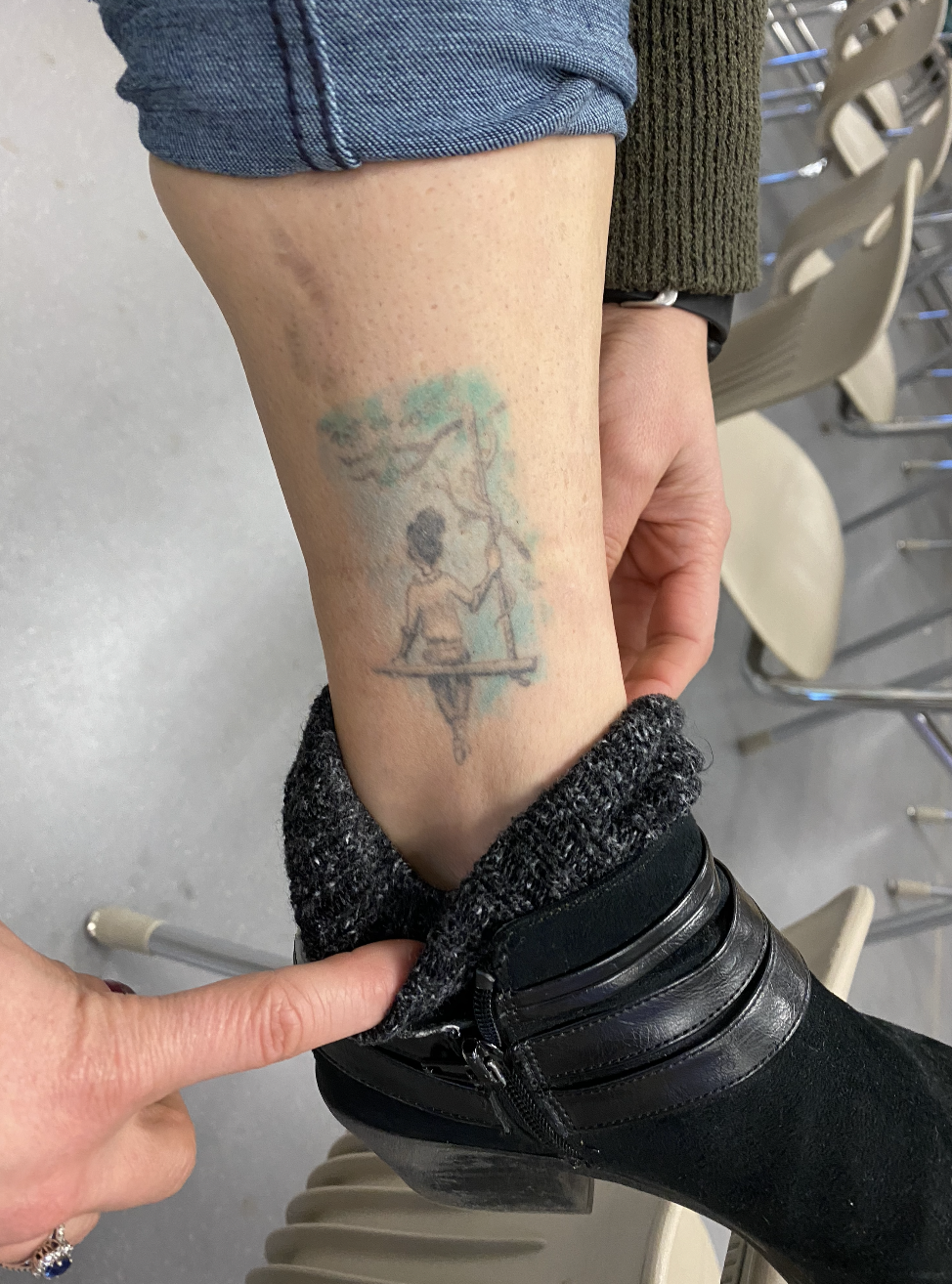 Love also faces judgment for her tattoos.
"[When I've been judged], it made me feel like I was not accepted because it's my body, and I can do what I want. It took me a while to get over people's judgment and just enjoy my tattoos because I liked them," Love said.
Unfortunately, she did experience some regret for the ones she got as a teenager.
"The first two I got when I was 16. I kind of regret it because I wish I could have made a better design decision. But I don't regret the third one," Love said.
Biology teacher Jessica Magallanes has seven tattoos, two on her left arm and the rest on her right. They all have a nature theme or are things Magallanes finds beautiful. She never considered getting them until later, as her parents were very anti-tattoos, and she felt the stigma around them.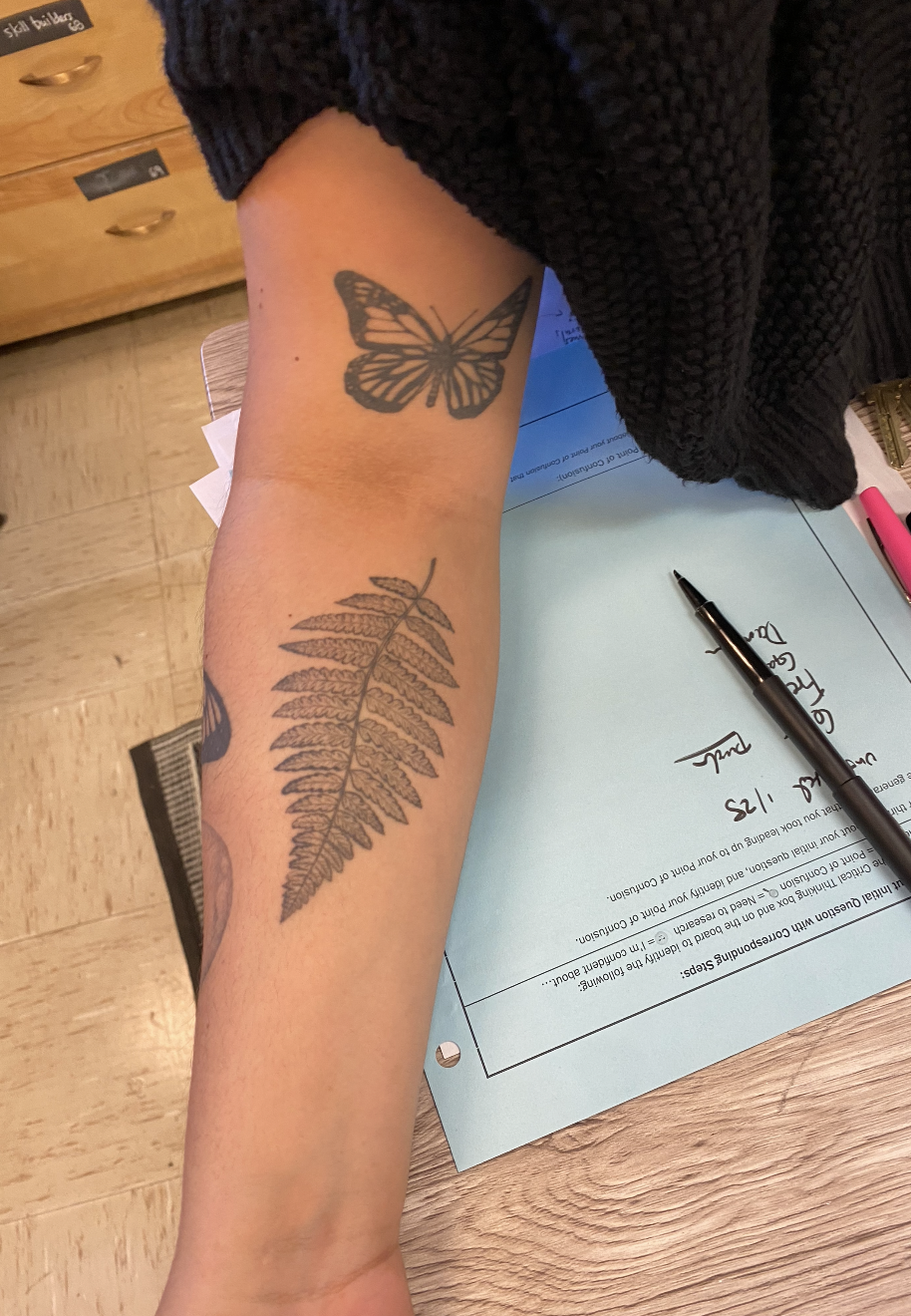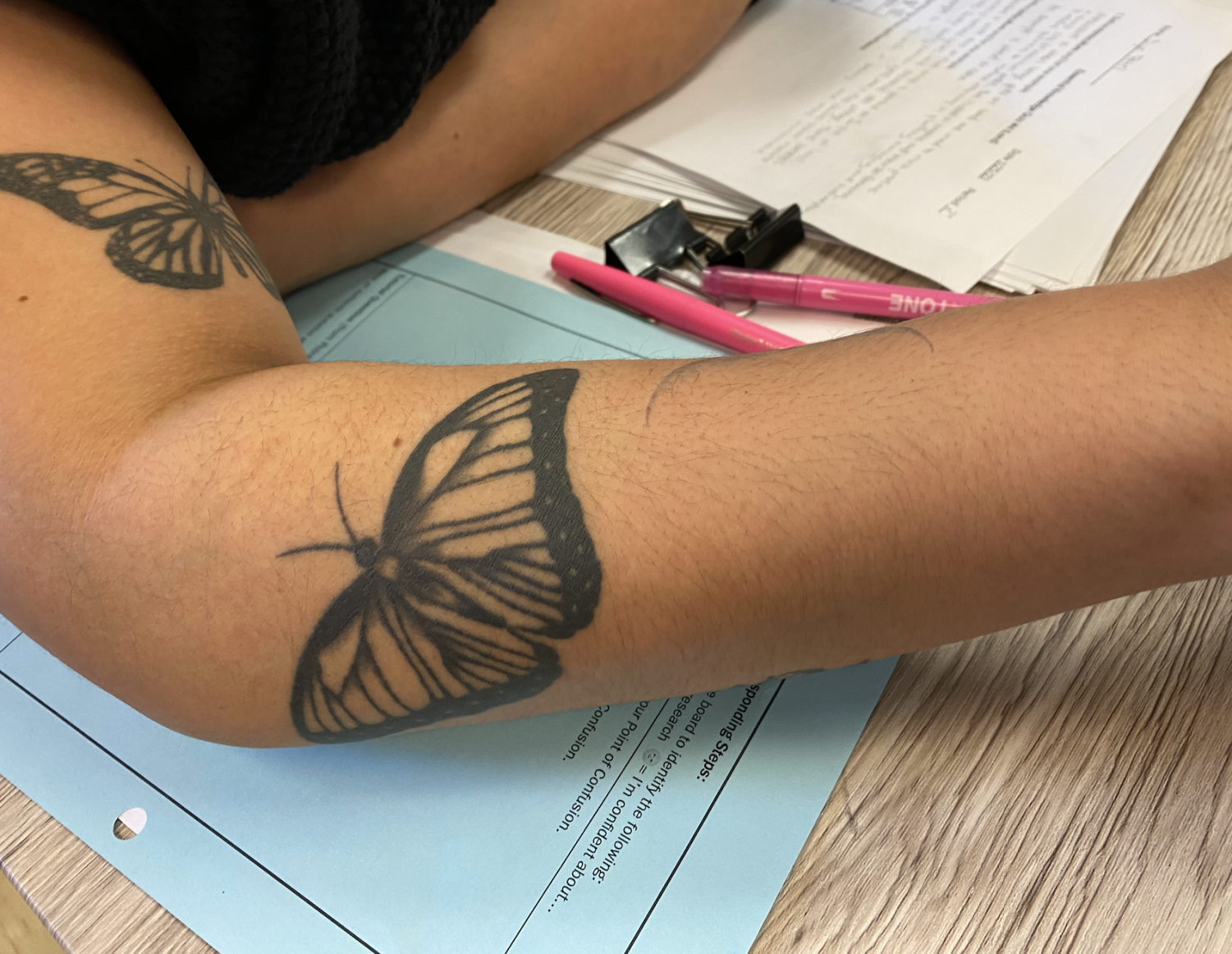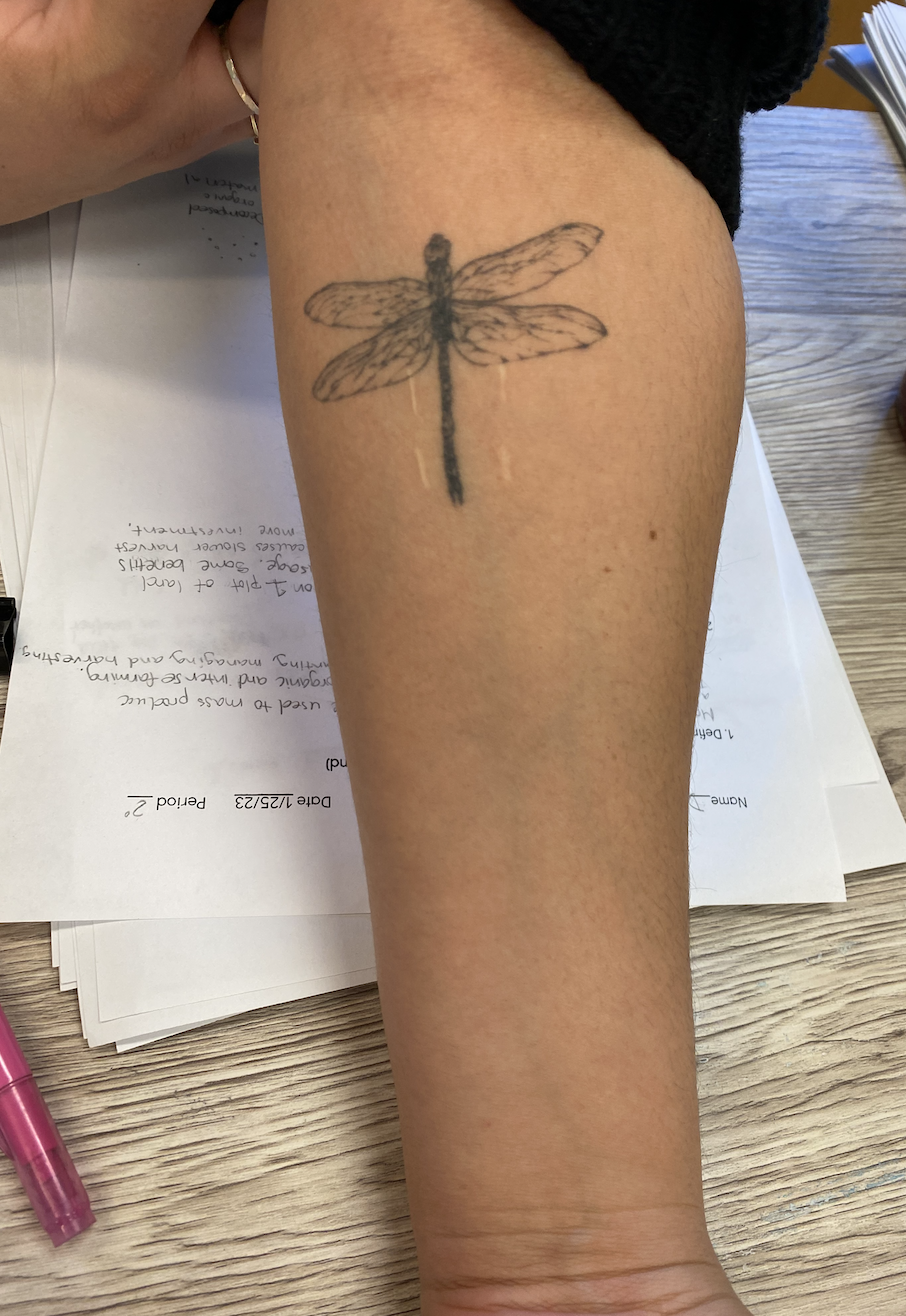 "[After I got my first one] it opened the floodgates for me because I realized it didn't even hurt that much," Magallanes said.
Magallanes was strategic about her tattoo decisions because of the stigma. 
"[That's something I considered] when I started getting the placement of tattoos. If I did end up interviewing in a different sector or in a different district that's more strict, they [can be] covered with long sleeves," Magallanes said.
More recently, stigmatization also seems to be fizzling out.
"I think unnatural hair colors, piercings, and tattoos are more commonly accepted, and people are less judgmental about [them]. I think it can also help you relate to people more. It can be a positive thing when you can bond over that with a student or a colleague," Magallanes said. 
Love added something similar.
"It's more and more common to have piercings and tattoos. I think people are a little bit more open-minded now, and it's hard to hire a person that doesn't have a tattoo or piercing because many have them," Love said.
Most schools have restrictions against tattoos for staff, so it might seem like Sequoia does too, but they don't. 
"I think it's excellent because it shows they respect us as professionals, and it doesn't matter [how you express yourself]," Magallanes said.