Hitting the stage: Sequoia's impressive and impactful dance show
 Sequoia's 2023 dance show closed in fantastic fashion. With over 600 Carrington Hall seats sold each night, Student-choreographed pieces were performed to a nearly full house on Friday and Saturday.
Many dancers report their time working on the show has been a good opportunity for them to learn from and support their peers.
 "I've met a lot of new people and made new friends," sophomore in intermediate dance Sydney McNeal said.
Students in advanced dance spent months choreographing and learning dances. Seniors from advanced dance taught the choreography to intermediate dancers as well as the seniors participating in the boy's dance.
 "There were a lot of hours and long nights leading up to the show, but it paid off and was so fun and worth it with such amazing friends and dancers," Junior in advanced dance Isabella Kashap said.
The dance show was filled with many types of dance, including hip-hop, contemporary, musical, ballet, tap dance and more. Through multiple rounds of choreography, choices were refined, resulting in a well-balanced and appealing show. This was the 54th annual dance show put on by Sequoia High School.
When asked about the experience of watching her first Sequoia dance show, freshman Sierra Hasset shared her thoughts.
"I thought it was really good. Some parts were fun, and some parts were emotional," Hasset said. 
While the event's purpose was to show off the talent of Sequoia's dancers, it also brought attention to issues important to them. Senior Sarah Hansen choreographed and danced a solo meant to bring attention to the fight and struggles of LGBTQIA+ teens. She ended her dance with a few lines projected on the screen, including the statistic that "45% of LGBTQIA+ teens consider suicide". The ending of her dance was a call to action, establishing that the world is still in need of change.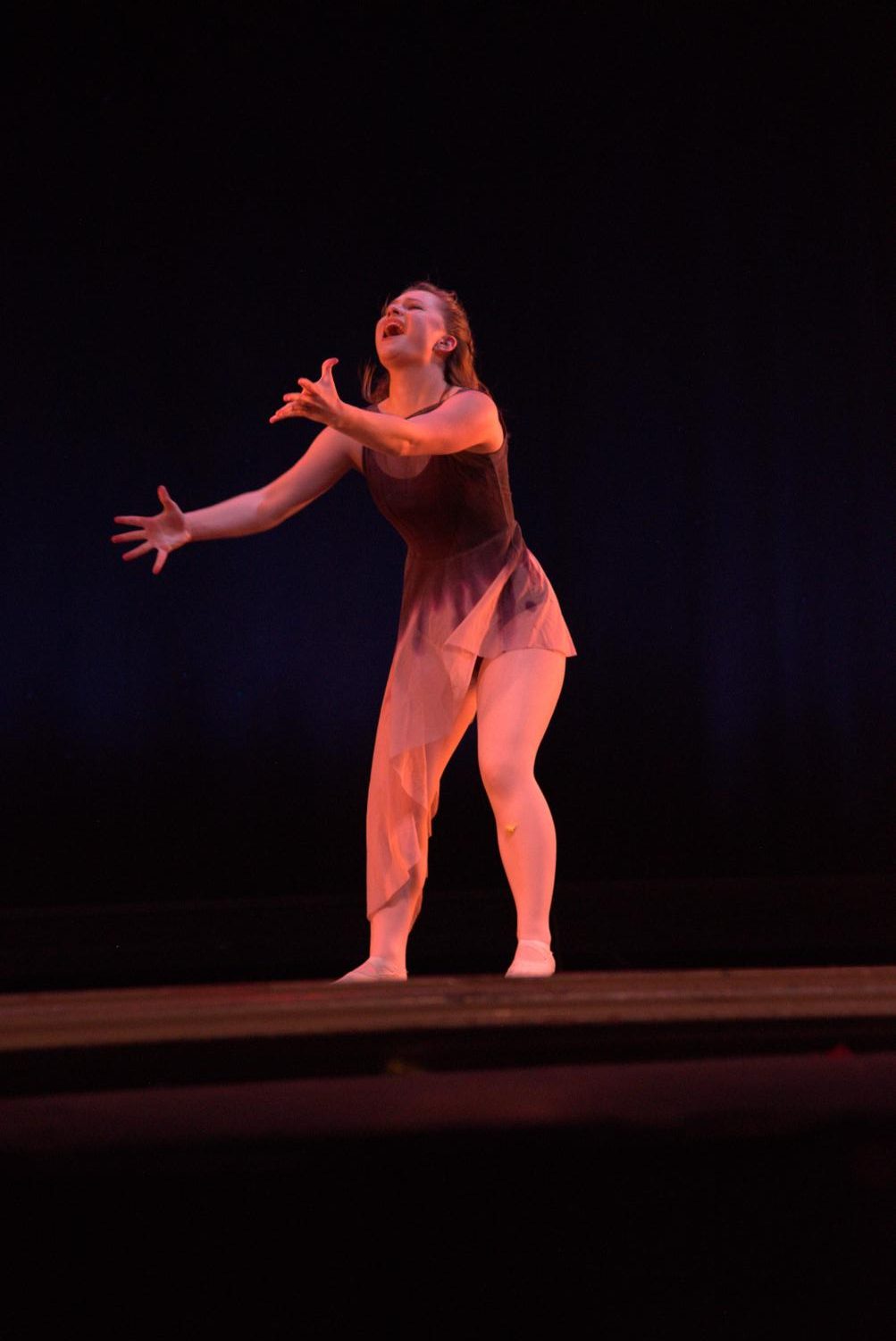 Props and costumes were also utilized to convey the themes within each performance. In another of Hansen's dances, rainbow boas were arranged like a pride flag. Other props, such as colorful ribbons and umbrellas, were used in the intermediate dances. Creative and colorful costume choices made by the students and Ms. White also added to the show's success.
At the end of Saturday's show, the audience clapped for the dance teacher, Taylor White's birthday. Additionally, each senior dancer from both intermediate and advanced dance was given flowers and a round of applause. With that, Sequoia closed another stunning dance performance setting the stage for years to come.