Unified Sequoia team offers basketball experience for all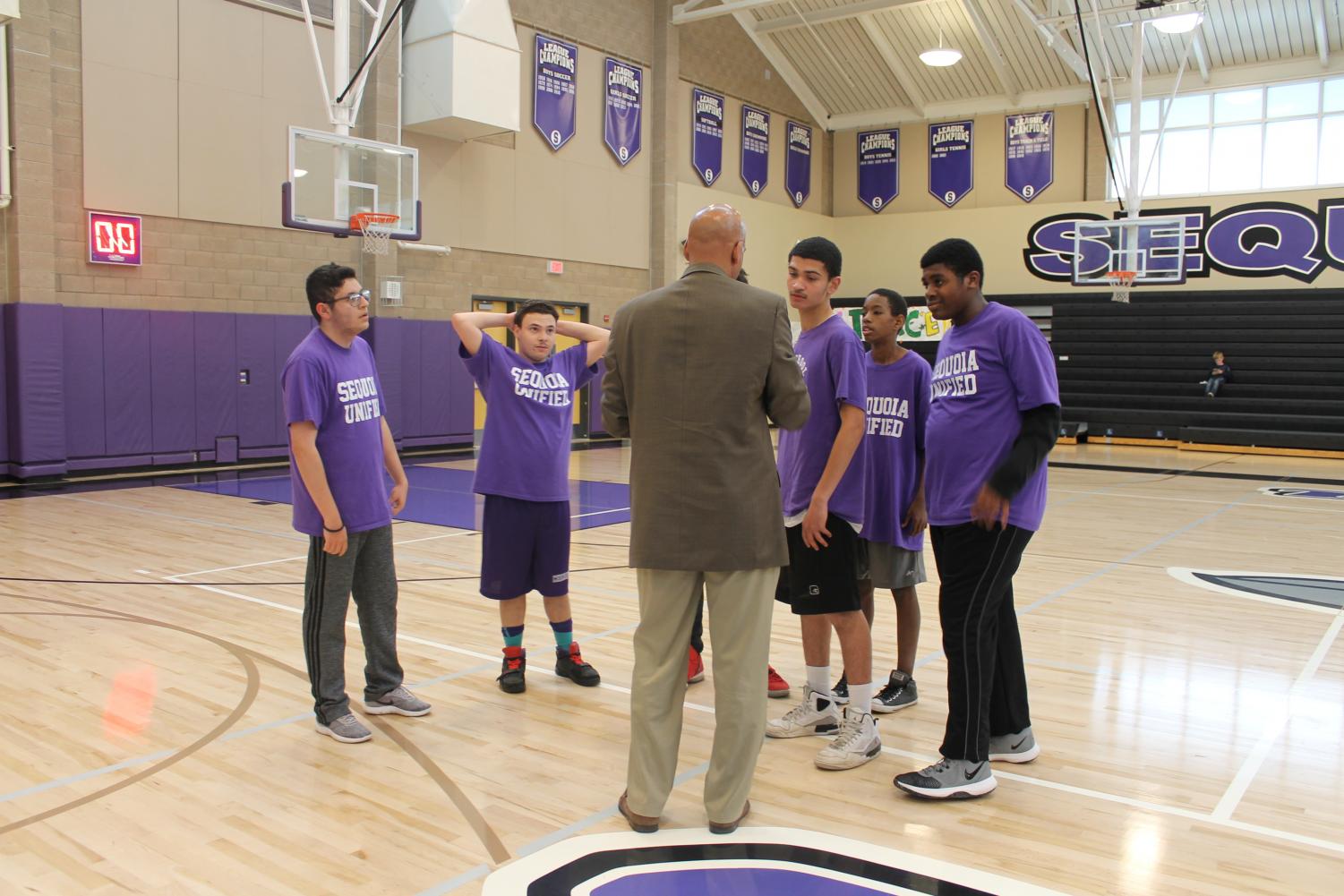 Excited, determined and bearing a wide grin on his face, senior Ever Quintanilla dribbles down the basketball court. He carefully eyes the open basket; the other team's defense hasn't yet caught up with him. But instead of going for a routine layup―the shot you might expect from a point guard like Quintanilla―he passes it across the key to teammate freshman Max Ozumba, who catches it, shoots and scores.Quintanilla, Ozumba and several other students represent Sequoia in the Unified Sports program, playing for the Unified Sequoia basketball team. As part of the program, which is run by the Unified Special Olympics organization, athletes in high school with and without disabilities compete together in sports ranging from table tennis to basketball.
"The Unified basketball program pairs students with and without disabilities on the same team, playing against similar teams," Unified Sequoia Head Coach Adili Skillin said.
"
[Unified Sports] is what the essence of basketball is supposed to be. Yes, it does get competitive … but the purpose is to have the students play basketball for fun."
— Adili Skillin, Head Coach
By including people with intellectual disabilities on sports teams, the organization hopes to eliminate stereotypes about individuals with different abilities.
Around the world, about 1.4 million students in elementary, middle, and high school take part in Unified Sports. Every year, local high schools host round-robin games between unified teams. This year's games were held on March 21 and March 28, between Hillsdale's, Woodside's and Sequoia's unified teams.
Although the score isn't the focus of the game and there's no advancement to the Sweet 16 or Final Four like in March Madness, the teams play diligently, working together and giving it their all.
"It's what the essence of basketball is supposed to be like," Skillin said. "Yes, it does get competitive: the team wants to score and play aggressively and make great plays, but the purpose is to have the students … play basketball for fun. As a coach, I get involved not just strategically, but also positively, supporting the team."
Quintanilla, who has been playing basketball since he was 6, sometimes goes up to the basket and scores. But often, he chooses to pass the ball to other players, allowing them to get excited after making a shot.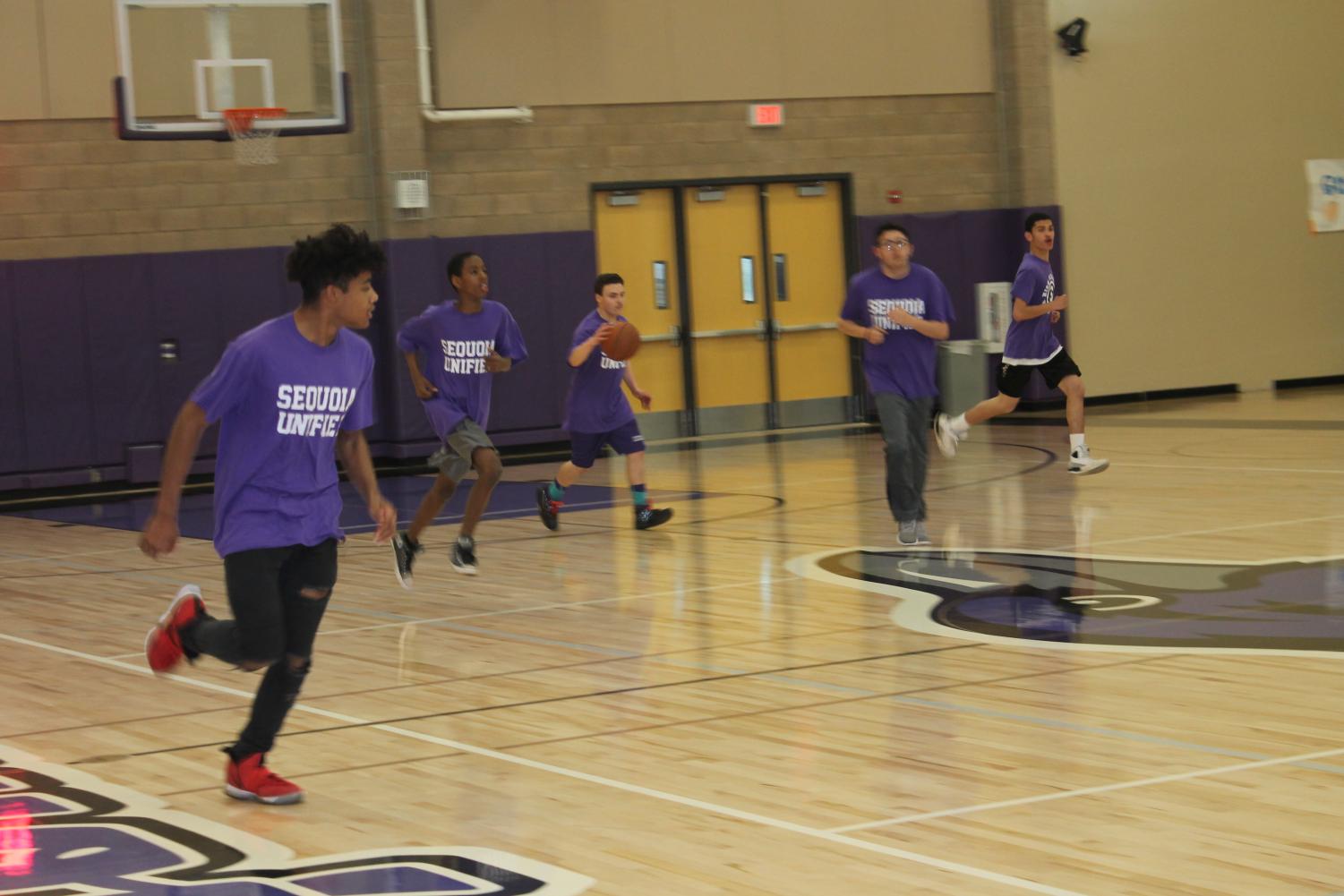 "It's fun seeing my teammates score, too," Quintanilla said. "To see them smile, and have a wonderful time, too, it creates great memories."
Skillin also has fond memories of last year's season, when he began coaching the team. Since then, Skillin has been asking teachers to recommend interested students to play for the team and collaborating with the Black Student Union and Best Buddies to gain additional members. There are no formal practices, but a few weeks before the games begin, the team starts practicing during lunch in Gym 2.
He points to Sequoia's Unified Team's encouragement of both teams during their games as evidence of his players' kind nature. According to Skillin, his favorite play occurred when Quintanilla passed the ball all the way down the court to freshman Devin Williams. Instead of dribbling and making a basket himself, Quintanilla passed to Williams, helping the team work together and establish connections.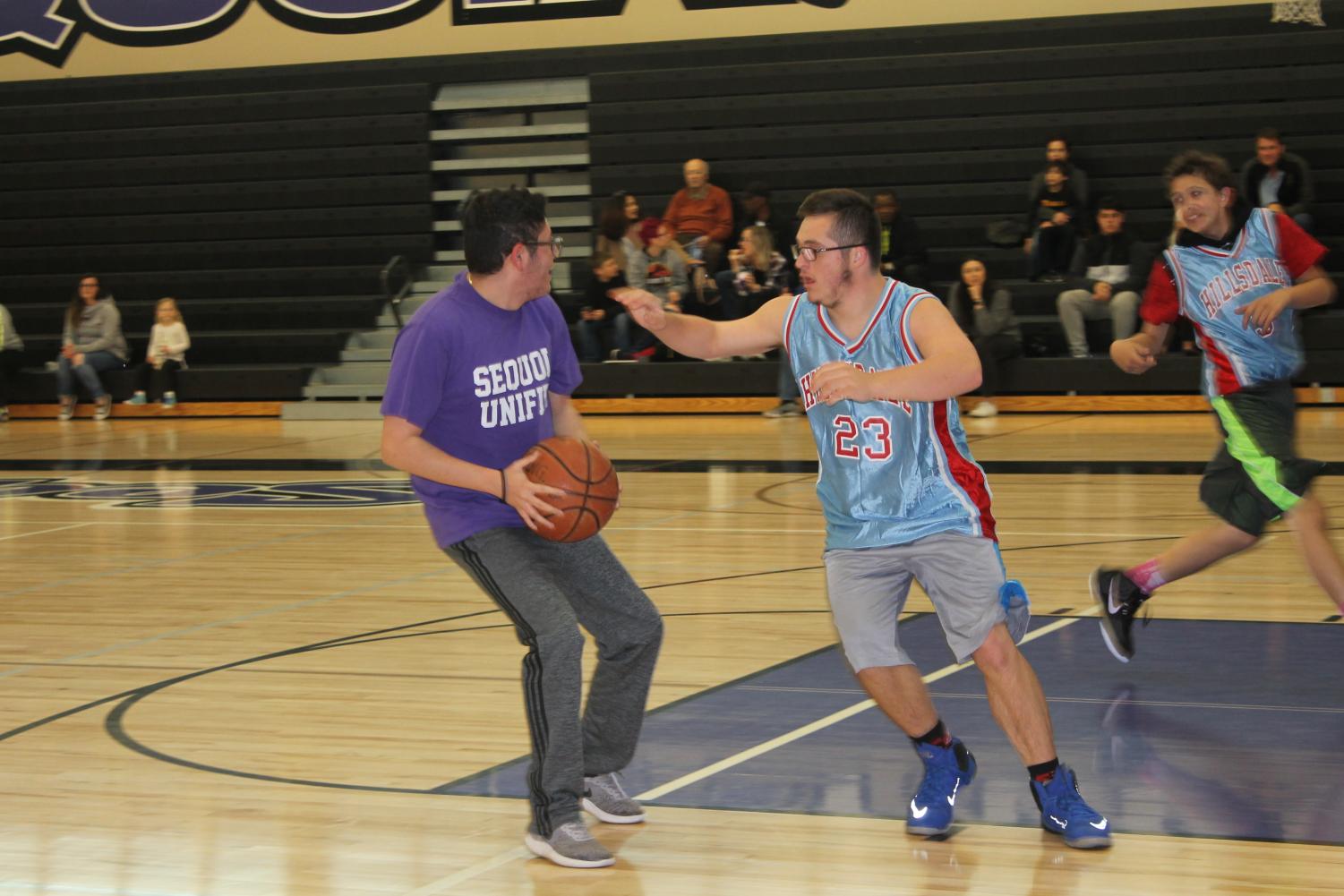 "It's a really supportive team, a caring community," said senior Rose Marinaccio, who played for the team in 2018 and 2019. "We're not here to win. We're here to have fun."
The games take place only once a year, but Skillin, who played basketball himself as a student and has coached the sport for over 20 years, knows he will coach again next year.
"I'm just so happy seeing the joy [that playing the game] brings the kids. Even the students without disabilities who play get just as much out of it," Skillin said. "There are different ways of making kids happy, polite, and to show good sportsmanship, and the team is all of this and more. It's the perfect job for me."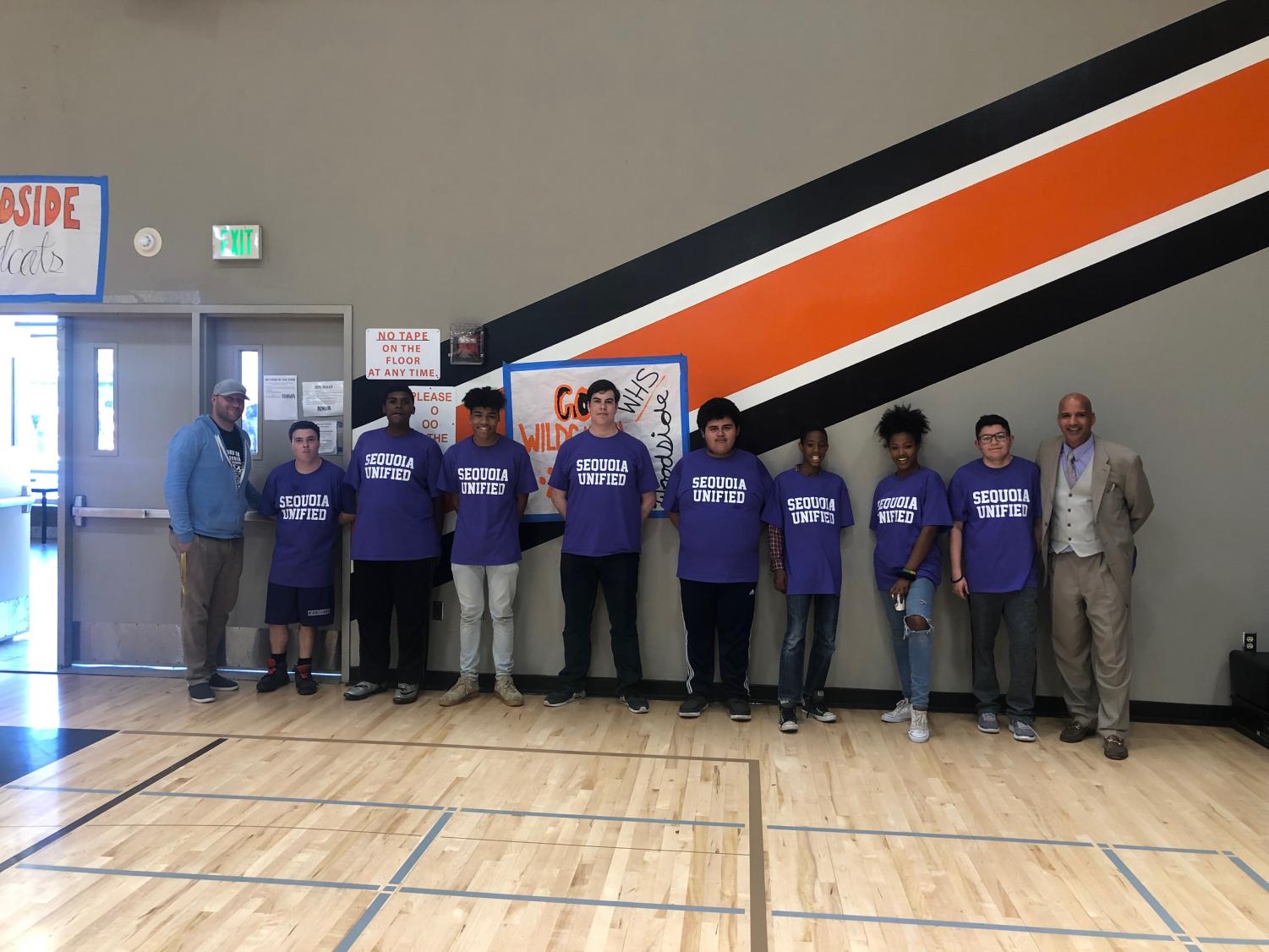 Both Marinaccio and Quintanilla are in their final year at Sequoia, but said they are making the best of it by playing on the team one last time. Marinaccio hopes the team can garner more players in future years, and perhaps gain more school-wide recognition, like through cheerleaders performing at the home games.
"I'm very grateful that they have this league for the school, so kids can just have fun," Quintanilla said. "[For] the kids who can't make the actual school team, there's still something to be involved in. We make the best of it.  And we're having a wonderful time out there."
---
What is Unified Sports?
"Our opponent is intolerance. As long as we come together on the field of play, we can defeat it."
That's the idea behind Unified Sports, a program run by Special Olympics. Around the world, athletes with and without disabilities come together to play on sports teams. The program supports people with intellectual disabilities by building their self-esteem and confidence, while also serving as a way to improve the understanding and acceptance of students without disabilities.