STEM-focused TIDE Academy to open, engage students next school year
Enrollment has begun at the District's newest, specialty school, TIDE Academy, set to open next year with a founding Freshman class. TIDE, short for Technology, Innovation, Design, and Engineering, will feature a unique hands-on curriculum designed to prepare students for college and career readiness in STEM fields.
Students at TIDE will benefit from innovative, research-based lesson plans, according to a description on the school's website. This hands-on curriculum, in part, will allow students to physically create what they can predict and envision, instead of just stopping at the imagination phase.
"
I always try to relate [my lessons] with real-life problems, but when I do that, I always have a limit. At TIDE, what we're going to have is a makerspace [with different] equipment. So [students] are making the prototype. They can actually see whether it will work."
— Steven Wong, TIDE Founding Mathematics Teacher and Athletics Director
Construction began at the site, located in an industrial area east of Highway 101 in Menlo Park, in May 2017. The school's 45,000-square-foot, 3-story campus is designed to accommodate 400 students total. The school is opening to one new grade of students each year, beginning next year, which means that no current Sequoia students will have the opportunity to attend TIDE.
The school's hands-on, STEM-focused curriculum may resemble that of Design Tech, San Mateo Union High School District's, smaller, specialty school located in Redwood Shores. Likewise, TIDE will include a makerspace shop and design lab, along with a coding lab and a green roof.
"We're going to have a laser-cutting machine, a 3D printing machine, a wood-carving machine, a sewing machine," said Wong. "If you're talking about applying [education] to real life, this is the next level."
Students at TIDE will select either an industrial design or computer science pathway, and follow those classes as electives throughout the four years. Beginning in 10th grade, students will be enrolled in college-level classes, co-taught by TIDE teachers and Foothill College professors, allowing them to receive both high school and college credit at the same time.
Seniors will have the opportunity to earn enough college credit to enter most UC schools as a junior, allowing them to save two years' worth of time and tuition.
TIDE will be the District's 10th school, originally deemed necessary as Menlo-Atherton was quickly reaching capacity. (Interestingly, the site of the District's former Ravenswood High School, closed in 1976 and demolished in 1995 due to low enrollment, sits just three miles away from TIDE.)
"What started off as a concept to offset the rapid rise of our student population quickly developed into an opportunity for our District," Superintendent Mary Streshly said in a promotional video for the school.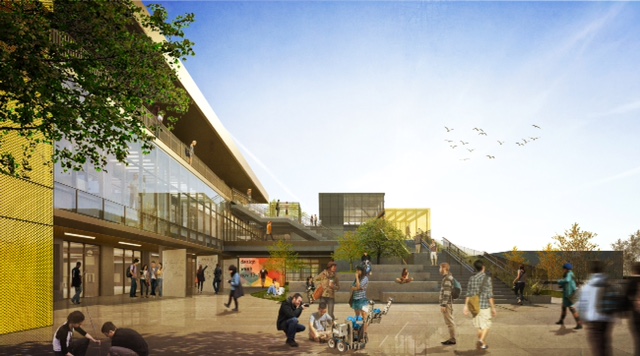 Each class at TIDE will include 100 students from around the District, with 60% of each grade coming from the North Fair Oaks community and feeder neighborhoods of Menlo-Atherton. The remaining 40 students will be selected at random from those who have applied.
"We're looking for kids who are creative. We're not only looking for smart kids, gifted kids, we're trying to serve all kids," said Wong, who has worked on outreach and math curriculum for TIDE since leaving Sequoia last school year.
Juniors at TIDE will be paired with a mentor, and Seniors can participate in internships with local companies related to their chosen field of study.
"We're [not only] providing education, but also experience," Wong said. "Maybe there will be a kid who says, 'This is not the path I want to follow after Senior year,' or maybe they'll say, 'This is exactly what I want to do with my life.' And they have a leap ahead of everybody."
Applications for current eighth graders to attend TIDE closes on February 1, 2019. Details are available at http://www.seq.org/Departments/Student-Services/Enrollment/TIDE-Academy/.