Cherokees glimpse at the Class of 1917's past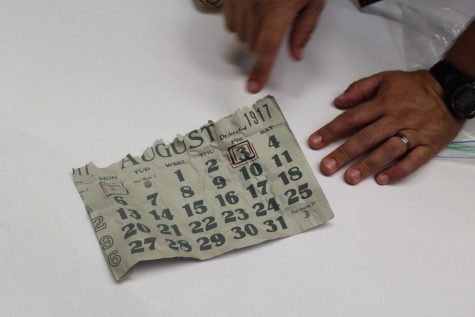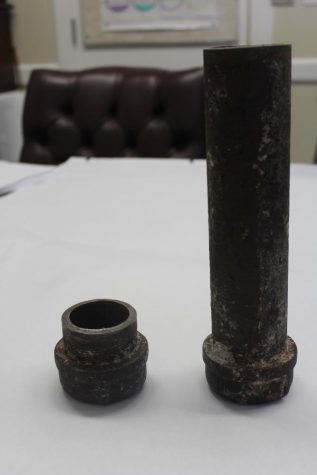 A time capsule from the Class of 1917 was opened by Sequoia's administration and the Class of 2017 June 8. After students asked to open it, they found it in the bomb shelter under the library.
"Mr. Priest was very excited," said Administrative Vice Principal Gary Gooch, who is in charge of all facilities and school grounds. "'Look at this!,' [Priest said.] 'What? It's a pipe.' I said."
When they pulled it out of the ground, it was rusted shut and looked, as Gooch described it, like a regular pipe. All capsules are property of the class that created it, yet as the entire Class of 1917 has passed away, the administration could open it. The Sequoia High School Alumni Association (SHSAA) were notified of its contents after the opening.
"The 1917 capsule was metal, and we suspect it was made in Sequoia's own metal shop," said SHSAA secretary Nancy Oliver in an email.
The contents include an engraved buffalo coin, commencement program and calendar of when it was dedicated. This is not the first time a time capsule has been opened at Sequoia.
"Board member Marion Wydo followed the process to open the capsule [from 1964]," wrote former SHSAA chair Ro Fischer in a Fall 2016 issue of the SHSAA's newsletter Smoke Signals. "They discovered a yearbook, newspapers featuring the banning of the dance 'The Swim', a copy of the Sequoia Times and what [Wydo] describes as a copy of 'SCUZZ'— a weird Sequoia newspaper printed at the time. There was also a newspaper with headlines of Kennedy's assassination in 1963 … a junior prom and a senior ball program and a letter from [the] Dean of Boys, Mr. Dragon."
Fischer was the SHSAA chair at the time when the graduating class' plaque–on the path leading from the school's main entrance to Carrington–were put on that path in 2004. The new resurgence in opening and finding the time capsules comes from the building and renovations around campus in the past decade. When they were taken out of their former spot, except for the 1917 capsule, were taken from those spots, catalogued and recorded for the first time and currently live in the bomb shelter under the library in the school.
However with all the shuffle over the years, there have been some classes, such as class of 1969, who have asked to open their time capsule and, with unfortunate luck, have not been able to find it.
Time capsules are created by the graduating class. Students build or get the physical capsule and decide what goes in. The latest recorded capsule was from 1998. The only reason they stopped being made was because of a fall in interest.
"The time capsules are … what people deemed important enough to save for future viewing," Oliver said. "For classmates opening a time capsule, a flood of memories fill their minds. For others, seeing copies of a yearbook, newspapers, etc. give a glimpse at the past."