Varsity football team kneels in silent protest of police brutality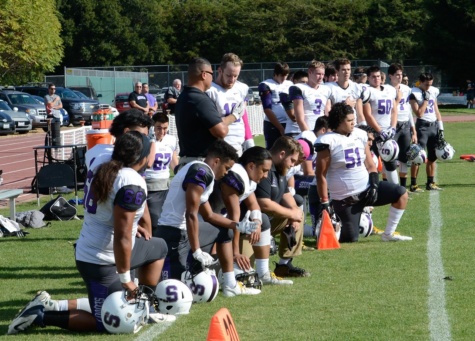 A dozen members of the Sequoia varsity football team knelt during the Star Spangled Banner Sept. 28 in an act of solidarity with the fight against police brutality towards African Americans. Both players and coaches participated in the protest, which was proposed just before the game's start. The protest is planned to continue through the season.
Since Aug. 14, San Francisco 49ers quarterback Colin Kaepernick has taken a knee instead of standing for the national anthem to raise awareness for alleged racially biased judicial profiling. Kaepernick's actions have inspired boycotts of the national anthem across professional and high school sports.
Sequoia football's participation in this protest began with a discussion before the game at Woodside. The discussion was prompted by a representative from the Black Student Union. Football players were asked to state their opinion on the protest.
Football players on both sides of the political spectrum voiced strong opinions. The team was, at first, divided over whether to protest and—if they did—whether to link arms or raise a fist during the national anthem.
"Some people were upset that the topic was even brought up," said junior Kyle Tarzon, wide receiver and safety. "I think [kneeling during the national anthem] is very disrespectful. I had uncles who served in the navy and my grandpa served in the army. That's one reason why that I don't do it—because I think it's disrespectful [towards] them."
People 'quickly snapped,' said senior Joaquim Jacob Yambao, cornerback. "I mean no disrespect towards [veterans] at all, but I know they find it offensive."
Head varsity football coach Rob Poulos, however, asserted that it was the football players' independent choices.
"They have the option to [kneel or not kneel]," said Poulos. "They are not forbidden from doing it. Part of growing up is figuring out who you are and what's important to you."
However, in spite of the growing controversy, many players that chose to kneel were ultimately happy with their decision to kneel.
"[It is] raising a lot of awareness," said Yambao of the cause against police brutality towards African Americans.
The Sequoia team assures, however, that they will remain a team—regardless of each other's political beliefs—and will continue to allow players to kneel or stand as they choose.
"
"They have the option to [kneel or not kneel]. They are not forbidden from doing it. Part of growing up is figuring out who you are and what's important to you."
— Rob Poulos, head varsity football coach