Senior uses words, imagination to change the world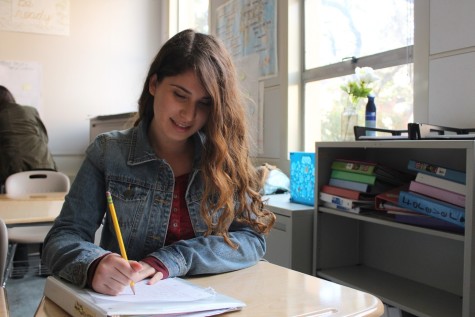 Senior Ilana Slavit, a student in Creative Writing, wants to use her writing to make a difference.
"I really want to make a change in terms of women and minorities being represented in film," Slavit said. "I definitely want to major in it in college, and I'm actually really interested in going into the independent film industry."
The independent film industry produces films that are not produced by major corporations, like Paramount or Pixar.
Her guidance counselor, Melissa Perez, is happy with how Slavit went about reaching her goals.
"Ilana really managed to follow her passions all through Sequoia," Perez said. "Of course, all of [the guidance counselors] encourage students to have a rigorous course load, and it was great to see a student doing that what she loves."
Slavit is enrolled in Jane Woodman's Creative Writing class for the second year in a row.
"It's definitely helped me grow as a writer; recently, I was looking at some stuff I wrote before creative writing, and some more recent things, and I definitely see a huge improvement," Slavit said.
Her favorite project so far has been a one-act play where a coffee shop is representative of heaven. Slavit has also recently submitted some of her short stories to contests. When Woodman hears that a student is submitting work to publishers or contests, she gives them more feedback on their writing.
"I take it as a sign that I can really take the red pen to their work—that they're really ready for that level of feedback," Woodman said.
Slavit finds this feedback extremely beneficial.
"It really helps guide you towards what you want your end result to be," Slavit said.
Even though Woodman gives Slavit feedback, she enjoys Slavit's writing.
"She is unafraid to tackle topics that are uncomfortable or hard to hear about," Woodman said.
Some students feel that they drag themselves from class to class, gaining nothing, particularly enjoyment. Luckily for Slavit, she is not one of them. "I loved creative writing [class] last year, and I'm loving it this year."
Fellow second-year creative writing student, and close friend, Henderson is inspired by Slavit's work.
"It's inspiring how much work she puts into [her writing]," said senior Ayssa Henderson, who is also in Creative Writing. "It's clear she loves what she does, and I applaud her for continuing with it."