Grey's Anatomy: Sequoia Edition
Medical Clinical students take on real world cases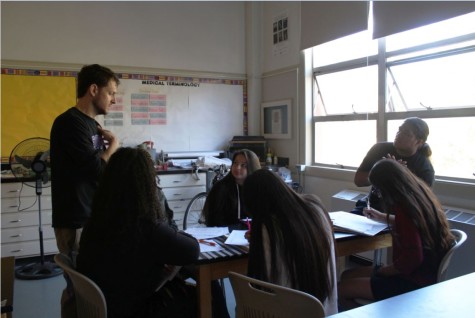 Immunizations, CPR, medical histories, medical terminology and anatomy—a typical day for any medical professional—is also a typical day for a student enrolled in Medical Clinical, an elective taken by students enrolled in the Health Careers Academy (HCA).
The HCA provides students with the tools and experience they need for a career in the healthcare field, which includes doctors and nurses along with policemen and firefighters.
"I have a whole closet full of CPR dummies; they're practicing CPR [and] search-and-rescue skills," said Medical Clinical 2 teacher Tiffany Burkle, HCA chair and certified American Red Cross instructor.
This class covers subjects from medical terminology and healthcare laws in the first year, to basic medical skills and procedures the second year. As 10th graders, students in the HCA become CPR certified, which is good for two years.
Students in Medical Clinical 2 are recertified, participate in Emergency Medical Responder training and gain many basic medical skills which includes certifications in CPR, first aid and with automated external defibrillators.
Many students also have volunteer positions at either Lucile Packard Children's Hospital or Sequoia Hospital, where they are able to use their training.
"You are with the same people, and you all have the same goal," senior Alfred Pohahau said. "Teachers are more focused on you as individuals."
Students have the same core group of teachers and classmates throughout their three years and classes are capped at 28.
As much as it is focused on medicine and health, the HCA is equally as focused on career exploration and planning for students, doing extensive college prep and college visits, so students are prepared and ready for life after high school.
"[The academy] is helping us get on the right track if we want to go into the medical field," HCA senior Keilani Lowenstein said. Lowenstein, who wants to become a pediatrician, has always wanted to be in the medical field.
Leave a Comment