As the white lights beam and the student section roars, Sequoia's dance team counts down the seconds to half-time. With just one week of practice, the nerves of the team members match the chaotic energy of the crowd. They run to their starting positions, stare into the eyes of hundreds of students and hear the beat drop.
Sequoia's dance team was brought back after COVID-19, and the team's captains are excited to start up rehearsals for the third year in a row. The work and practice required to perform one new dance every week at school events can be tough. Let alone two.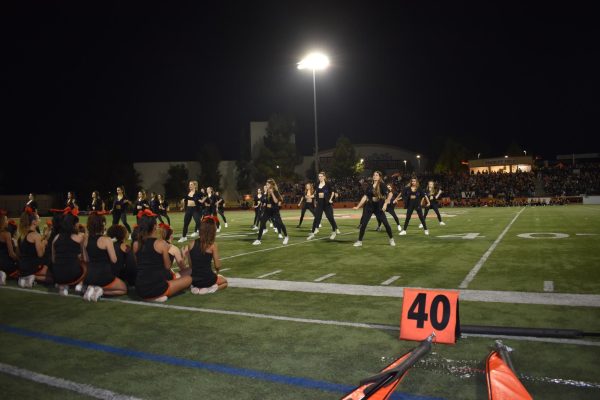 "We learn two new dances every week, and we have to clean, choreograph and stage all of them in the week and perform them by Friday," senior and dance team captain Claire Dulsky said. "So it's definitely a very quick pace." 
Dulsky knows this routine is challenging, but her love for dance outweighs the commitment the team takes.
"I'm so passionate about dance that it's definitely just an easy thing to put into my calendar," she said. 
On top of that, practicing in a smaller area can bring unique challenges. The team practices during seventh period in a classroom-sized space. With performances held in more open areas, spacing can be a puzzle. 
"Usually on Fridays we go to the field so that we can just see how it is spacing-wise, how much we need to spread out, and then go full-out because it's definitely a different feel when you're on the field," senior dance team member Natalie DeMarco said.
While the team is fully student run, Sequoia's dance teacher Taylor White has taken on being the team's advisor. While she has to be present at practices, White is impressed with the autonomy of the class.
"They're very organized, very precise," White said. "They come in, they warm up quickly. They go over choreography, they clean it, they stage it and then they move on to the next, so they're efficient with their time."
With no extra leadership, this efficiency is needed to get the dances ready, especially for the most rivalrous and exciting games of the year. Senior and dance team captain Rania Mehta is well aware of the high standards for these games.
"[When we perform against] Carlmont, Woodside, we know we need to bring it. Everyone is just on the same page, in terms of energy level," Mehta said.
The rivalry isn't the only excitement-inducer for these games. Many of these dancers, across school teams, all practice their technique in outside studios. 
"Some of my best friends are on those other teams who I dance with outside of school and I'm around them all the time. It's really fun to see their dance team dynamic because it's definitely really different [from ours]," Mehta said.
Unlike other nearby high schools, Sequoia's dance team doesn't participate in dance competitions. For now, they are content with their slate of performances at school sporting events.
"Competition isn't our main goal. Our goal is to represent Sequoia and perform for our school and just be out there. As for right now, the dynamic of just performing basketball and football games and stuff like that works for our group because we just love to do it," Dulsky said.
And with a love and a passion for the same art, it's no surprise that the team is very close. Senior Isabella Kashap, the third captain of the dance team, highlights this connection.
"Everyone on [the] dance team is always super supportive," senior and dance team captain Isabella Kashap said. "We really became a family."