Spice Up the Holidays
     The holidays are a great time for student chefs to show off their culinary skills since they have time at home to cook. Without the stress of school, students have a lot of time on their hands to cook and experiment with new recipes. I interviewed two students from Sequoia's Culinary Arts class who had unique recipes and were willing to share them, as well as shared my own family recipe. These recipes will be easy to follow and be a great addition to any holiday meal.
     The first recipe, shared by junior Sofie Olson, is buckeye candy. Buckeyes are a dessert made of peanut butter and chocolate originating from Ohio. Olson's family typically makes them during Christmas time.
     The ingredients for Olson's buckeyes are peanut butter, milk, sugar and chocolate.
"Use extra creamy peanut butter. That's what we've realized it's much [easier] to mix with extra creamy peanut butter," Olson said.
     The ingredients for this recipe are peanut butter, milk, sugar and melted chocolate.
To make the buckeyes:
Mix peanut butter, milk and sugar together in an electric mixer.

Mold them into small spheres and freeze them. 

While they are freezing, melt the chocolate until it is liquid. 

Remove the frozen peanut butter balls from the freezer and dip them in the chocolate. 

Freeze again to let the chocolate solidify on the buckeyes.
     "[They turn out [one] inch wide[…], so we usually make like 24 in a batch."
     The second recipe, shared by junior Jack Battaglia, is stuffing balls. This recipe comes from his sister, who is a Sequoia alumn and currently attends Arizona State University.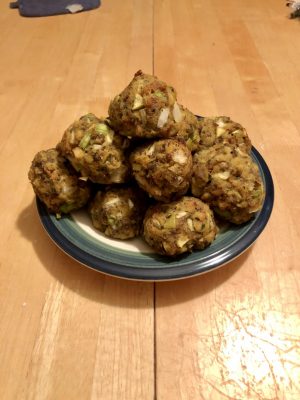 "It's cornbread stuffing and cube stuffing. […]There's a bunch of vegetables and sausages too," Battaglia said.
     This recipe makes two full baking trays but this can change depending on how big you sphere them.
The ingredients list (makes about two baking trays) is:
     1 box cornbread stuffing, 1 box regular stuffing, 1 Green apple, 5 stalks Celery, 1/2Yellow onion, Eggs, Melted butter, 1 box chicken stock/broth, 1 Jimmy Dean sage ground sausage. The amount of eggs and broth will depend on how sticky the mix is. I found a little more than half a carton of chicken broth and 3 eggs worked.
     This recipe requires more time and is slightly more advanced than the previous one, but still doable for both new and experienced cooks. 
     To make the stuffing balls, you first prepare the ingredients by chopping them up and mixing them in a large mixing bowl.
     "You got to cook the sausage a little bit before you could sit in. So you can fully cook when you bake them," Battaglia said. "Make sure you mix all the ingredients in the mixing bowl very well or else [they] might fall apart."
     Then form them into spheres and place them on parchment paper and a baking tray in the oven. Cook in the oven for 25 minutes at 375 degrees or until golden brown to achieve crispiness without overcooking the insides.
     "My family really makes it around Thanksgiving, Hanukkah [and the] holiday season," said Battaglia.
     Fresh out of the oven, the stuffing balls are very crispy on the outside and cooked throughout the entire ball. If you mix well, you will have a combination of different textures and flavors in every bite. What stood out to me about this recipe were the green apples, which added a very unique flavor that I enjoyed.
     The third recipe is my own recipe and is Asian sticky rice, or as my family calls it, Nuo Mi Fan. My family typically makes this around thanksgiving time and is a replacement for traditional stuffing.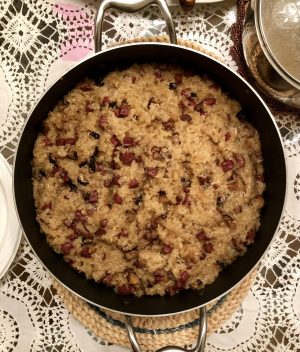 The ingredients list (change to fit your own desire) is:
     4 cups Glutinous rice, ½ cup dried shrimp, 15 small pieces dried scallop, 4 links Chinese sausage, 10 pieces dry shiitake mushroom, ½ pound Char Sui (Chinese BBQ pork), 1 medium onion, 5 tbsp soy sauce, 1 tbsp oyster sauce, ¾-1 cup chicken broth, 2 tbsp sesame oil, 2 tsp Shaoxing wine (or any other cooking wine), 1 tsp salt, 2 tsp honey, 4 scallions, cilantro.
Instructions are:
Rinse and soak rice overnight, then drain and steam for 40 minutes. 

Dice sausage and Char Sui into small pieces. 

Soak dried scallops, shrimp and shiitake mushrooms in warm water for 15 minutes or until soft, keep water. 

Dice mushrooms and separate the soaked scallops and shrimp. 

Finely chop onion and scallions. 
For the sauce: 
Combine chicken broth, sesame oil, soy sauce, oyster sauce, honey and salt and set aside. 
To cook dry ingredients, in a frying pan or large wok, 
Add 2 tablespoons of oil and stir fry over medium heat

Mix in dried scallop and shrimp for 30 seconds

Mix in onion, shiitake mushrooms, sausage and Char Sui for another minute

Add cooking wine and stir fry for another two minutes

Add water from soaking dried ingredients and add rice to wok with half of the sauce mixture and mix to break up the rice, scoop under rice to make sure it doesn't stick to the bottom of the wok. 

Add the rest of the sauce and mix well while simmering. Add green onions, garnish with cilantro and serve.
     The recipe turns out as a tender and flavourful rice dish. What I love about this recipe is that the rice sticks all the dry ingredients together, allowing you to taste every flavor in every bite.