Sequoia competes equally with help of Title IX
The Williams sisters, Mia Hamm, Flo-Jo, Skylar Diggins, Alex Morgan, Gabby Douglas, other great American athletes and even coaches at Sequoia owe Title IX for giving them an equal chance to play the sports they love.
At Sequoia, there are a few questions about equality between boys and girls sports funding.
The one shed that girls softball gets to keep their equipment in is a broom closet by the locker rooms, far away from the field, where they need the equipment. However, boys baseball has their shed right next to the diamond.
In lacrosse, boys are given their own lockers to keep what fits of their equipment, when girls are not. A girl can ask for one so she might be able to get a locker, but there is no guarantee.
"We get the football lockers for the time that they're vacated, so we can fit our gear in there," said JV lacrosse junior Kyle Johnson said. "It can be helpful for those who don't have a ride home first because some people stay at school until practice starts."
Title IX requires equal funding for sports—that means equal equipment, coaches, storage units, etc., proportional to the gender difference.
Strongly promoted by many activists like Billie Jean King, Title IX was signed into law by Richard Nixon in 1972. It forbade any sex discrimination in education, requiring schools to give girls and boys equal opportunity, funding and resources.
"The funding for each sport should be extended to the point where each [team] can buy the equipment they need," Johnson said. "The funding shouldn't be unfair just because its boys and girls."
These small infractions show the remnants of the pre-Title IX world. Since Title IX, which Sequoia has been following, some believe the athletic department already values girls sports equally to boys.
"I don't think there's any sort of greater emphasis placed on boys sports," said math teacher and girls varsity soccer coach Melissa Schmidt, who does not recall any infraction in her 10-year tenure coaching at Sequoia.
"The [girls] love what they're doing and are proud of it, and they're going to play whether people watch them or not," Schmidt said. "My high school didn't offer a girls soccer team, so I had to be allowed to try out for the boys. I ended up playing with the boys because of Title IX."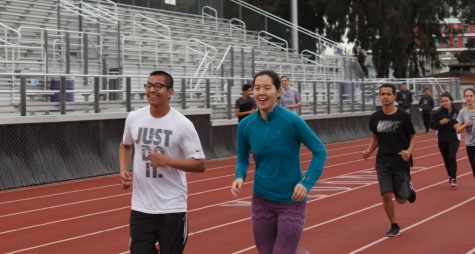 "If girls understand that by law, they're supposed to get the same funding, that will encourage more girls to go out for sports instead of thinking, 'It doesn't really matter,'" said freshman JV swimmer Mary Grace Mylod-Vargas. "We're still at that point where more guys do sports than girls, so we should definitely be encouraging them to do sports."
Leave a Comment