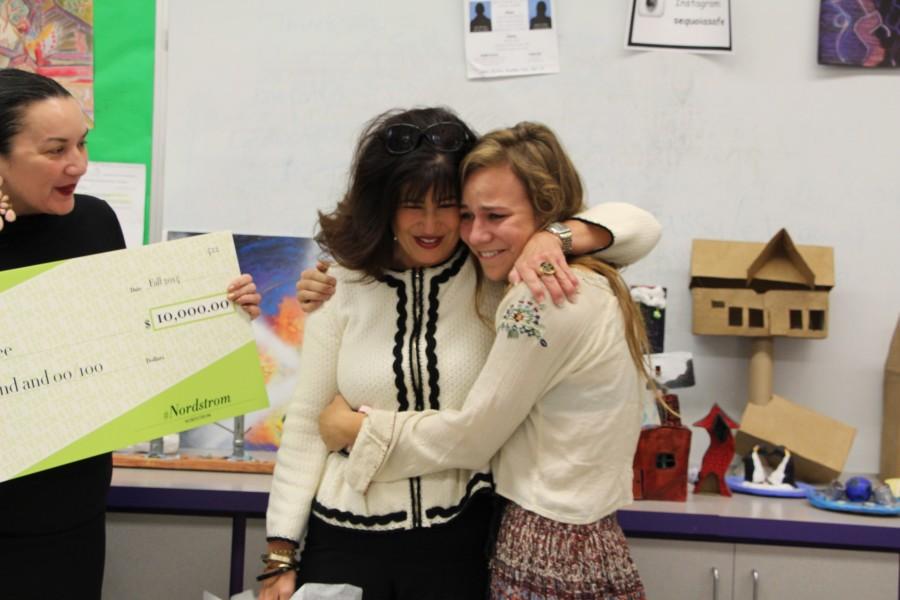 Senior Maddy McKee was surprised in class Friday, Oct. 24 when she was presented with a Nordstrom Scholarship, a $10,000 award.
"This is surreal," McKee said. "I'd have to use a whole dictionary to describe my reaction."
McKee was greeted by four representatives from Nordstrom, Principal Sean Priest and her family when they walked into her fourth period class to present her with the check and a MacBook Pro.
McKee was one of the 80 nationwide recipients of the scholarship, chosen after advancing through three rounds of applicants. The process included an application, two essays, a teacher letter of recommendation and a Skype interview with the scholarship committee. The scholarship is awarded to "outstanding students" with a minimum 2.7 GPA who perform community service.
"I had kind of lost hope," McKee said. "I got added to this semi-finalist page and I kept seeing notifications in August and September that people were hearing back, so I didn't think I won."
The surprise was planned for McKee's IB Art class with the help of art teacher Mozy Da Costa Pinto, who wrote McKee's letter of recommendation.
"I couldn't have done it without help. It wasn't all me. It was me, but it wasn't all me," McKee said.
McKee's future academic interests are in architecture and humanitarian work. She hopes to one day build for nonprofits or build community centers in developing countries.
"I have these big dreams in terms of college," McKee said, explaining that she knew she would need financial aid.
In light of her success, McKee encourages underclassmen to apply for scholarships similar to this one by putting themselves out there and being honest.
"I feel like I'm still waking up," McKee said. "I'm really happy and really thankful, especially for the teachers that helped me along the way."