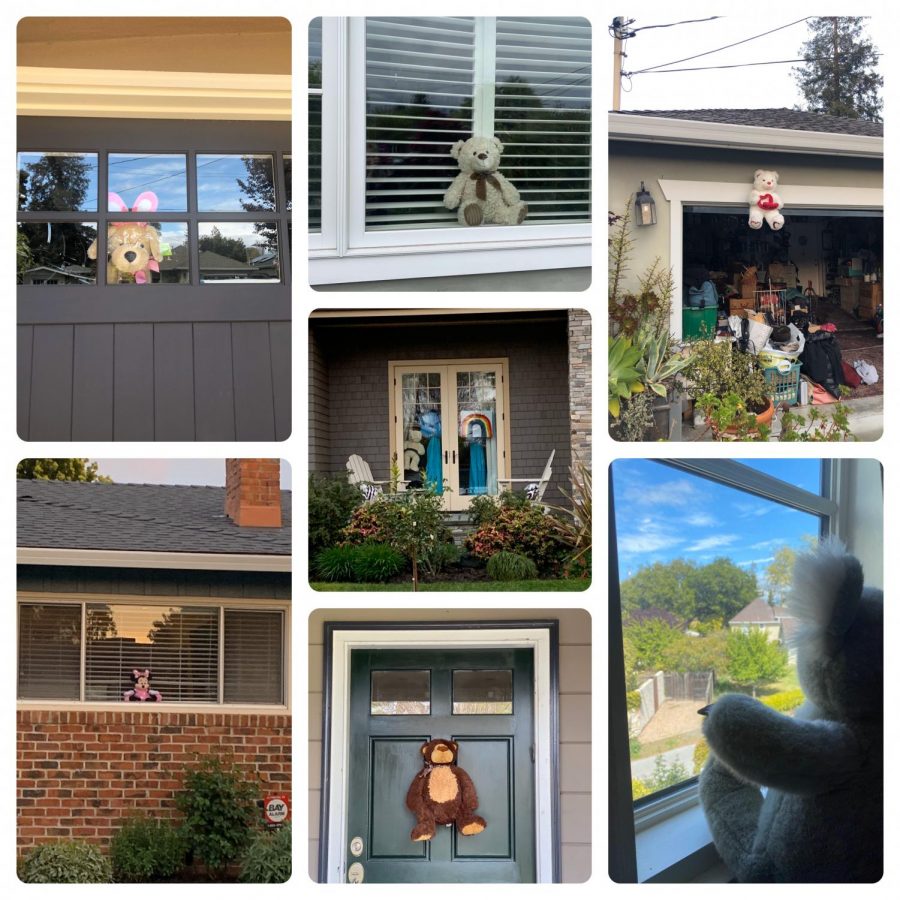 Bears are popping up in windows all over town! People all over the world are putting stuffed bears in their windows for kids in their neighborhood to have an activity to do while they are out walking and following the shelter in place order. This worldwide scavenger hunt is meant for kids, even adults, to have something fun to do and be active around the neighborhood, hopefully trying to spot as many bears as they can, while being socially distant during this quarantine. 
During the stay at home order, I have been able to walk around my neighborhood and see all the bears in the windows of peoples homes, and it's so great to see just how many people are putting up stuffed animals.
"My family wanted to participate in the bear scavenger hunt because we felt like younger kids would enjoy counting and seeing them in the window, and we wanted to spread more joy during this hard time," junior Ashely Lazzaroni said. 
More and more kids are out walking around the neighborhood because they are hunting for the bears.
"I've seen some many more little kids walking on our street and it's been fun seeing them point at the bear on my house," a local San Carlos neighbor said. 
During this time of not being able to do our normal routines and not being able to interact with people, it can start to affect us emotionally and finding little positive things, that are connecting us with our neighbors, can help us with mental health. 
"I decided to put my bear in the window to spread joy for anyone walking around," junior Sadie Ha said. "I think it's very important to find bits of joy throughout our day during this crazy time. Even if it is as simple as finding stuffed animals in windows, anything to show a community that hope and joy is enough." 
Even in this time of darkness, people are participating in these positive acts, which is bringing a hopefulness and joy to the community. This scavenger hunt isn't just benefiting the children of our neighborhoods, it is bringing together everyone who is participating in it, worldwide, creating a sense of unity and togetherness even in a time like today. 
  "[My family] thinks [putting up the bears] is important because it's a great feeling for us knowing that we are apart of something bigger, that kids all over our neighborhood are enjoying, and it's also a great feeling for the kids as well, and it's a very simple thing to do" Lazzaroni said. 
It's a very strange time right now in the world, and it's more important than ever to spread positivity and try our best to stay connected to people, while keeping our distance, and the bear scavenger hunt is just one way to do that. If you own a stuffed bear of any kind, put it out on display to contribute!