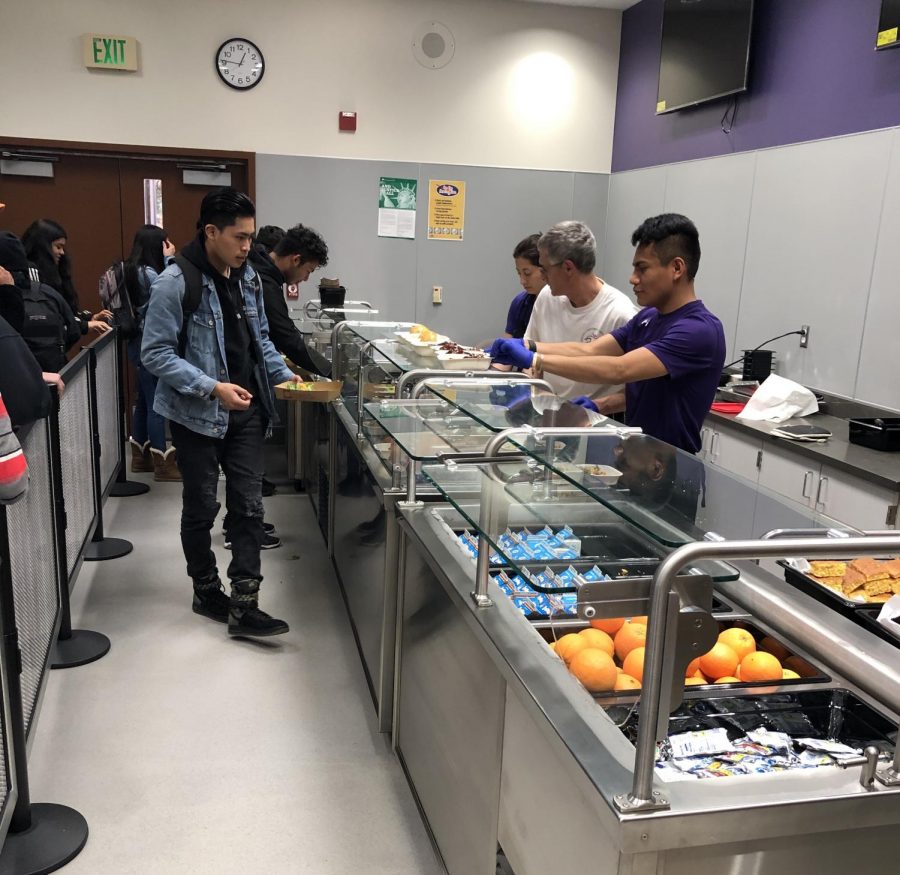 Nick Abraham
A new and remodeled lunch line in the Multi-Use Room's (MUR) opened on Tuesday, Jan. 15, featuring a salad bar, cashless payment, and the elimination of pre-portioned entrees.
The new line, called the Pit Stop, will be a departure from Sequoia's past process of serving lunch and brunch where students are served all food and drinks by lunch workers.
Though students will still be served entrees such as orange chicken and rice from the lunch workers, lines will mostly be self-guided. This means fewer students will hold up lines when choosing additional snacks on top of their main entrees.
The change is being welcomed by students who experience long lines during lunch, with many spending as many as thirty minutes in line.
"When it takes that long I feel anxious in line and it can get really annoying," sophomore Fernando Hernandez said.
Sequoia is the last of the schools in the Sequoia Union High School District (SUHSD) to have introduced a Pit Stop line. The issues that plagued lines before, such as students standing in "clumps" rather than straight lines, are much less prevalent since the new line was added.
While a worker in the Expressway, the other line in the MPR, could serve 50 to 60 students in a whole lunch period, one worker at the Pit Stop has been able to serve up to twice as many students in 20 minutes,
according to SUHSD Food Services Supervisor Yaz Widatalla. A lot of this is also due to the increasing move to a cashless payment system.
"The amount of time it takes for a cashless student to go through is is four to five seconds," Widatalla said. "If someone comes in and offers a $10 and the charge is $4.50, the process can take a minute, sometimes
up to three minutes."
The remodeling of the lines was originally proposed in May and was expected to be finished by the time first semester started. However, due to the space needed for the addition of a Nanodoor, a new type of sliding glass door to maximize space, the line was opened second semester.
Much of the reason why Sequoia has a hard time predicting when construction projects, such as the new line and the Media Center, will be finished is due to unpredictable structural complications due to the
age of the school's buildings and infrastructure.
"This building was built in 1924, ancient by modern architectural standards," said Administrative Vice Principal Gary Gooch. "It's a gorgeous place, but anytime you start digging through these walls or looking under this wooden floor, you find stuff that maybe you didn't know existed."
Along with the new layout for the lines, students will now have access to a greater variety of food with greater nutritional value.
While pre-cooked items at the Expressway lines would be reheated before lunch time, food at the Pit Stop is cooked from scratch about an hour before the start of lunch.
"Typically what we want to have in that line are things that you would have at home, something that you can't pre-pack," Widatalla said. "The goal really is to get more fresh fruits and vegetables and a buffet line
service."
Lunch staff will attend a food show in February from the Schools Linked in Commodity (SLIC) Cooperative, which handles food service for SUHSD and multiple other school districts in Northern California.
At this show, food service staff will choose options to determine the menu for SUHSD schools next year.