New Hillsdale Dining Terrace caters to San Mateo community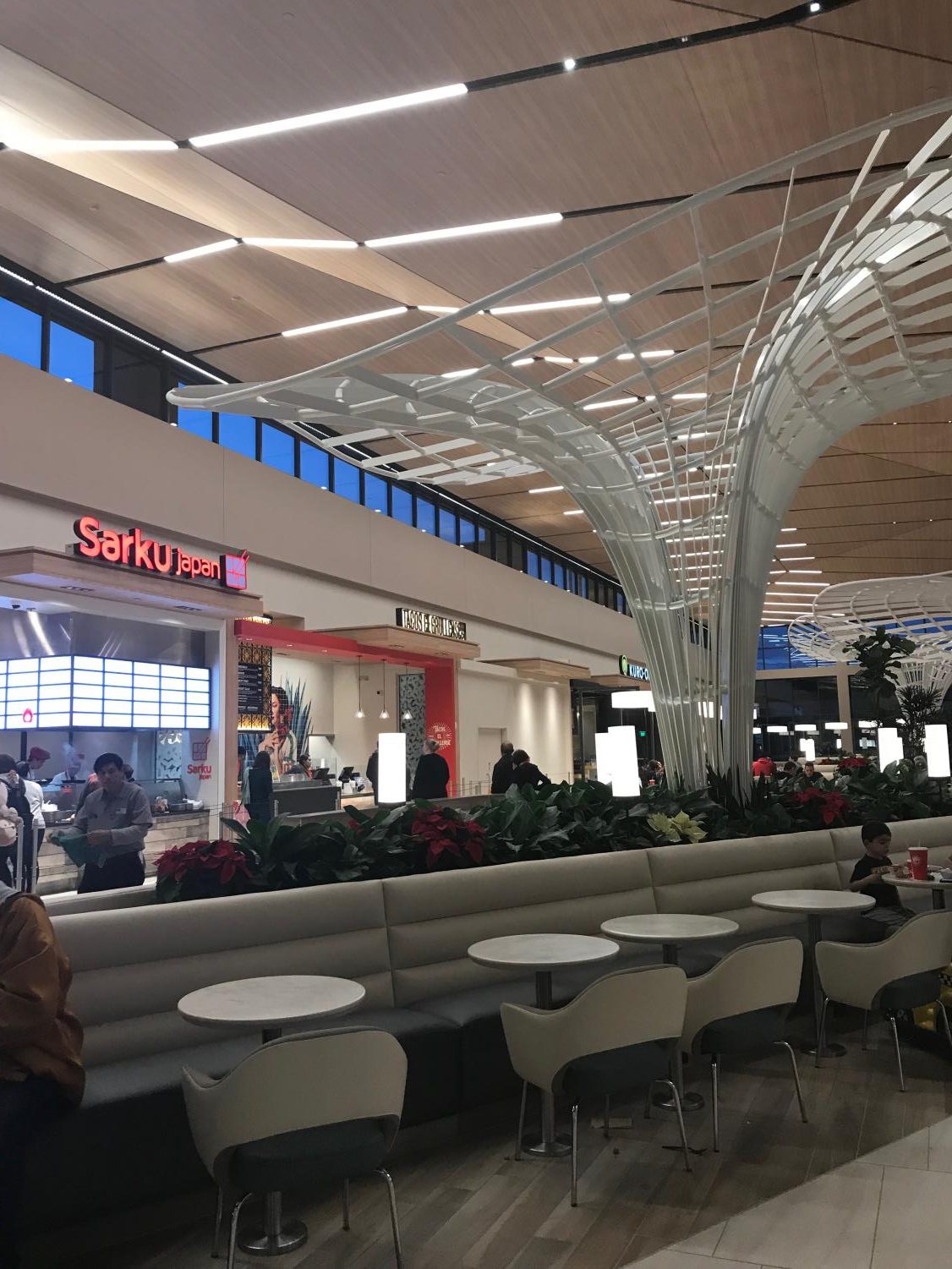 As the holiday season approaches, Hillsdale Mall's long-awaited new food court, as a piece of a larger project with a movie theater and bowling alley, has finally opened its doors to the public Nov. 17.
After many complaints about the extended amount of time the construction and remodeling have taken, students were relieved and excited by the newest additions and for it to finally be open.
"I was happy [when the food court opened] because the mall has been the same for so long and then we finally get something new," said freshman Gabe Federighi, who spends a lot of time at Hillsdale.
The new restaurants in the North Block food court include Blue Whale Poke Bar and Grill, Panda Express, Kuro-Obi Ramen, Uncle Tetsu Japanese Cheesecake, ShareTea, Sarku Japan, Haagen Dazs, and student favorite, Tacos El Grullense.
"They've added in a bunch of better stores, and in my opinion, [they] are catered to people more my age or even teenagers," said English teacher Hannah Singh, who has been going to Hillsdale for a long time.
If there are no more delays, the rest of the North Block Project is expected to open Summer 2019.
"It'll give young people a more central organized place to hang out and having more options always is nice. I think it's definitely going to step up the reputation of that mall," Singh said.
The food court was initially planned to open during Summer 2018; however, it opened Nov. 17 because workers had a hard time working around shoppers while the mall was still open, as well as other challenges.
"I was pretty disappointed [when the construction was delayed] because there's a bunch of cool stores that are going in and restaurants," Federighi said.
Along with more stores and restaurants, family-owned Hillsdale mall will also be gaining a Cinepolis movie theater as well as a Pinstripes bowling alley.
"I think having the movie theater right there is going to draw people in who are already at the mall, who maybe need another thing to do or they don't want to go home right away, then going to a movie will fill their time," Singh said.
Another part of the $155 million project is using recycled water for irrigation and using solar panels to save power.
"I think that that's a great thing they're trying to do," Singh said.
Even though the food court is relatively new, many say that long lines and waits came with the expansion.
"All the places have too many lines. Every single place you have to wait for like 20-40 minutes," Federighi said.
The goal of the expansion is to inspire shoppers to break away from online shopping and give them something new to experience.
"I'm curious to see that if the renovation of the food court," said Singh. "Adding the bowling alley and adding the movie theater is going to make more people flock to that mall."