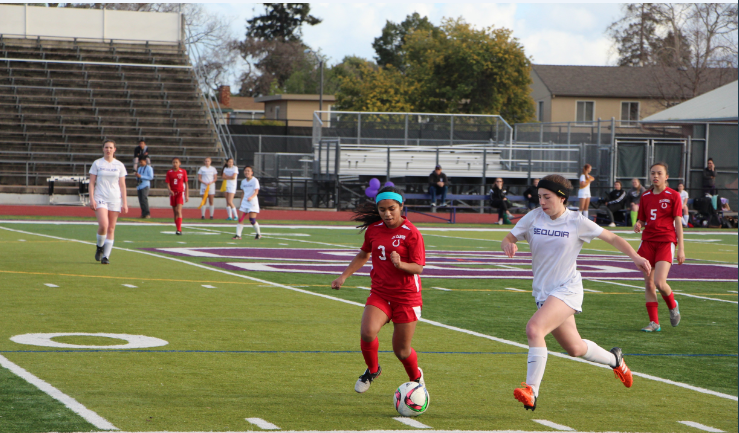 Claire Bugos
Sequoia triumphed over El Camino in a 3-0 win. The game was a celebratory match for the six seniors fighting in their last game for a Sequoia soccer team. The win concluded a special season for the team and a cap to the four years of spirited soccer for the seniors.
The game started off with all of the seniors (on both teams) being recognized. Since the game took place on Sequoia turf, it allowed each Sequoia senior to be verbally recognized by two players of the team, ornamented with various items and have a blow up of their faces swinging in the stands. The stands were crazy with family members and friends of the players who have been supporting the team throughout the season.
Even with a bright pre-game ceremony, Sequoia had a tough start. The first goal was scored halfway into the first half with a low shot to the corner by freshman Bridget Carbonneau with an assist from senior Rebekah Westerlind. Later a direct kick was taken 30 yards from the El Camino's goal by junior Madyson FitzGerald, resulting in a high shot over the goalie, right below the top pole of the goal.
In the final moments of the game, Westerlind made a final pass FitzGerald who shot across the goal, hitting net in the opposite corner. Nearing the first half, Sequoia had a two goal lead against El Camino.
With 8.51 minutes left in the second half, sophomore Sara Osorio Valadez was down with an injury in the left leg and helped off the field due to roughness from El Camino's #15. In the second half, the ball was moving across both territories of the field more than in the first half, where the ball was staying more in El Camino's territory.
"I thought it started out rough, but then we started to play a lot better," senior Katie Fazio said.
The second half had more shots on goal then the first because the shots became more sufficient. Though there were many break aways by both teams, but many of them were stopped by an intercepted pass or the ball was stolen from them. Also, both teams there was a very strong defence limiting each other from shots on goal.
When there was 6.01 minutes left in the first half, three El Camino players tried to score on a corner kick in the packed penalty box, but it resulted in another corner kick. Fifteen minutes into the second half, Carbonneau took a shot but the ball was rejected by the goalie with a hard hit and was recovered by Westerlind. El Camino's goalie then stepped up to meet Westerlind but fell, getting in the way of Westerlind's shot, only to be recovered by Osorio Valadez and was kicked out of bounds.
In the last five minutes of the game, all of the seniors played their last bittersweet moments on the field.
"I thought it was a really fun game," Sequoia coach, Melissa Schmidt said. "It was a nice way to end the season and to get all the seniors together on the field."
Fazio agreed saying, "I think it was a little sad, but overall it was a good way to end the four years of soccer,"