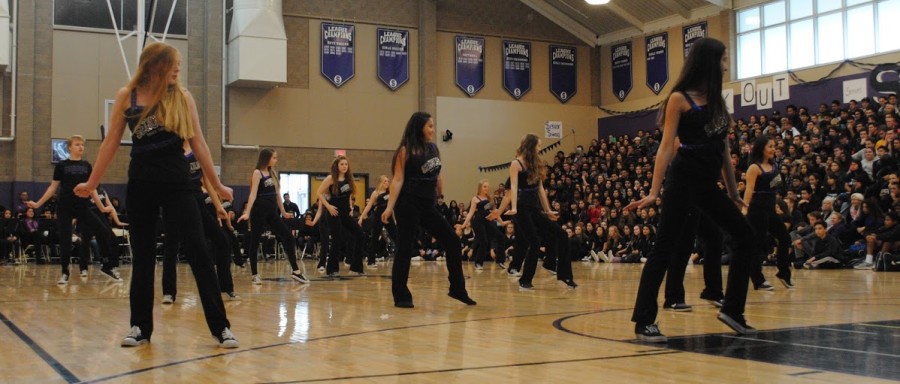 Aviva Futornick
The Sequoia Boosters Club celebrated Sequoia's many league championships over the past 125 years by hanging banners in Gym 1, that cost $10,571 in all, over the course of November and December to fulfill last year's annual Fund-A-Need (FAN) project.
FAN projects are one-time projects that address unmet needs decided by Sequoia Boosters Club, the administration and the athletic director. One of the past projects that FAN has supported was the painting the purple stirp on the inside of Gym 1.
"[We hung the banners] to show school spirit and support all the teams. That was [Boosters] mission," said Boosters President Judy Sloan.
The Boosters felt that the walls looked bare with just the purple strip on them, and they saw it as their duty to finish decorating the gym. The inspiration came from other gyms in Sequoia Union High School District.
Gym 1 was chosen as the place to hang the banners because "most of the competitive sports play games [there] and it is a spectator gym," said Boosters Member and 2015 FAN Coordinator Jennifer Webb.
There are 27 banners representing all the sports that Sequoia has to offer or has offered, and 22 of them have championship dates on them. The dates were initially printed directly on the banners and will be updated by placing stickers of the numbers on the banners. A date represents the year a league championship was won by the sport indicated on the top of the banner. The purple banners are 6'8"-by-3'9", hang in all the corners of the gym and are equal height with the windows.
FAN is funded by the annual Crab Dinner and Auction, sales of Sequoia paraphernalia, spirit items sales and email donators. This fund was able to cover most cost and the Boosters picked up the rest of it.
In the future, FAN is working towards an outdoor mural on the Terremere Field side of the Gym 1 and is still deciding on this year's project.